Fixing Tips
If you do not have a wall available, or if the wall is rough, then we do offer glass backs for all of our lean to Mini greenhouses.
However, there is nothing to stop you from making your own back from timber – this saves on cost, but will need regular maintenance.
If your fence is draughty, make a false back from exterior grade plywood, or purchase an optional glass back

If your wall has drainpipes, has a protruding window cill or is uneven, simply make a timber framework around the obstacle, or purchase an optional glass back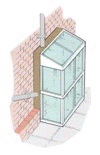 If you have no suitable wall or fence, fit an exterior grade plywood back and drive in two fence posts to support the lean-to, or purchase an optional glass back
The Lean-to greenhouse can stand on concrete, slabs or gravel. If you wish to grow in the soil place a row of slabs under the front rail to form a firm base and provide a path

If you do not wish to install the Mini-greenhouse yourself, we can offer an installation service – please contact us for more information.
---