What are Mini Growhouses?
Mini growhouses are a small version of the classic growhouse and are perfect for gardeners who don't have much space in their garden, but still want to grow their favourite plants, fruit, vegetables and herbs.
Mini growhouses enable you to make the most of available sunlight, providing the optimal conditions for growing all year round. Grow plants, herbs, fruit and vegetables in these space-saving mini growhouses and enjoy a green-fingered lifestyle no matter what the seasons throw at you, regardless of how little outdoor space you have available.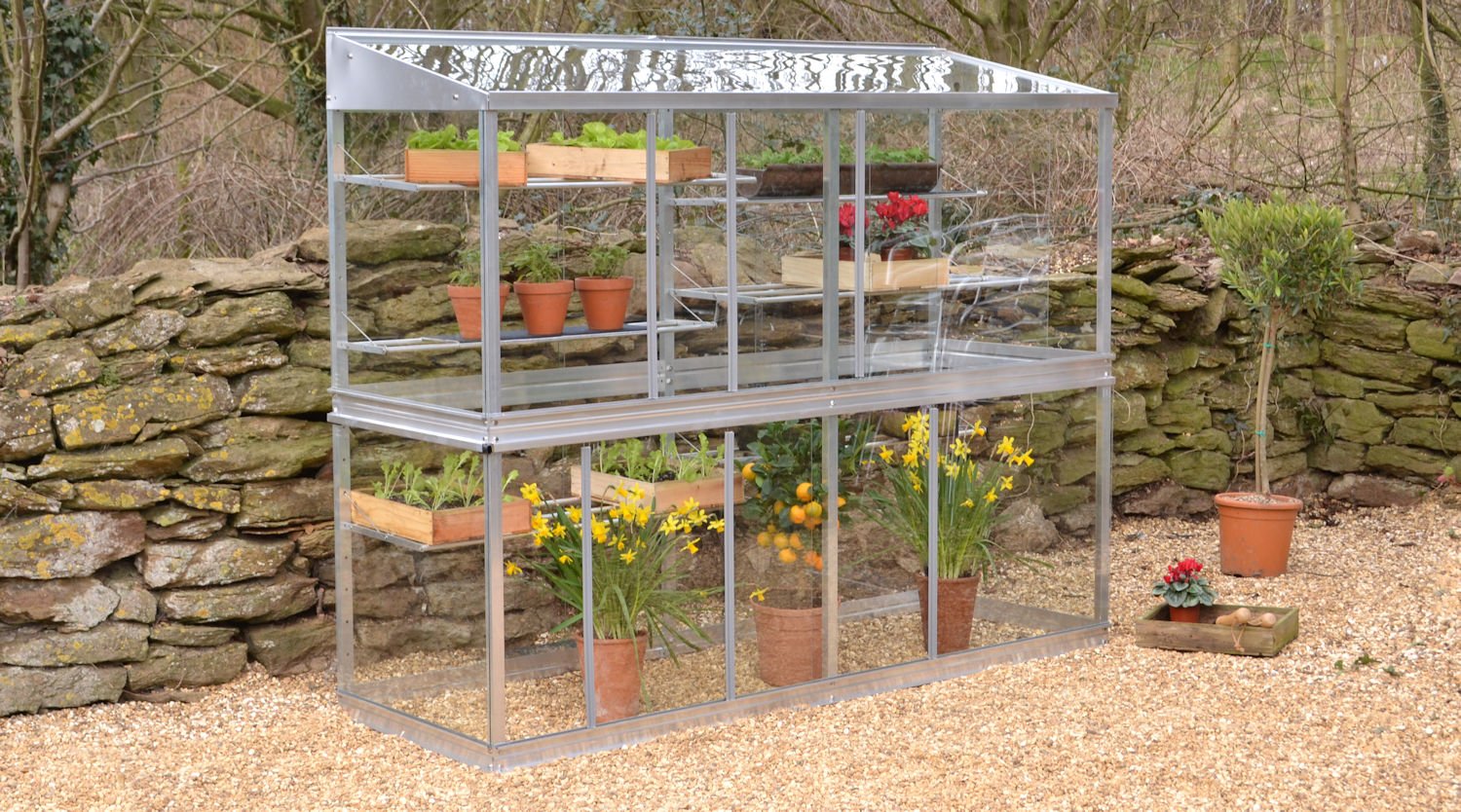 ---
Benefits of Mini Growhouses
There are many benefits of mini growhouses that are designed to make your gardening life easier and more enjoyable than ever before.
Small enough to stand anywhere if you're short on space, but big enough for your plants, pots, seed trays and grow bags
Can be easily moved if you decide to change the layout of your garden, or move your plants from season to season
Built with architectural aluminium and glazed with toughened safety glass, maximising light transmission and making them strong and sturdy to withstand wintery conditions
Superb at trapping heat so you can start growing early and later on in the year when it's cooler than the summer months
Easy access and great ventilation with their unique sliding doors, which also prevents overheating in the summer
Comes with adjustable seed tray shelves for maximum versatility, which can then be removed in the summer so you can grow taller plants, such as tomatoes and peppers
No unproductive walkways like conventional greenhouses so all space inside can be dedicated to growing
Different heights available, including full height models, which are tall enough for tomatoes and half-height models, which are ideal for seedlings, salad crops and peppers
---
When to use Mini Growhouses
Each season of the year is unique in its own way and can bring with them their own challenges. Luckily for you, mini growhouses make it easy to grow plants, herbs, fruit and vegetables all year round.

spring
During the spring, mini growhouses are ideal for growing seedlings on the shelves that don't require warm temperatures and hardening off tender young plants.

Summer
As the temperatures rise, you can take the shelves out of your mini grow house to grow plants outside, replacing the space with taller plants and mediterreanean crops, such as tomatoes, peppers and chillies. They can also be used to propagate plants if you don't have space for this anywhere else or don't want to so indoors.

Autumn
This can sometimes be an unpredictable season, making it difficult to grow plants, but mini growhouses can provide cuttings and younger plants shelter and protection from cooler temperatures, blustery conditions and the first mild frosts of the year.

Winter
During the winter months, mini growhouses can be used to shield and overwinter plants from rain, wind, snow and other elements, preventing them from having to survive low temperatures and frosts.
---
If you found this information useful, you'd love our gardening blog.
Visit our blog
---
raised bed kits
Raised bed kits are a great addition to your garden as mini growhouses can sit on top of them, giving you more gardening opportunities, especially if you want to use soil to grow plants, vegetables, fruit and herbs in a garden that is mainly patio-based.
Also, the heat that the mini growhouse traps inside will be absorbed by the soil, making it better quality and a warmer area than any soil that you use outside. With a raised base that has glass on top, you'll also be about six weeks ahead of crops that would've been planted elsewhere.
What's more is that these deep raised bases can join your annual gardening pattern as you'll be able to grow winter salads and they're even deep enough to grow larger soil-based vegetables, such as potatoes in time for Christmas!
Shop Now