What are Miniature Greenhouses?
Miniature greenhouses are exactly that, a small version of the classic greenhouse and are perfect for gardeners who have limited floor space in their garden, but still want to grow their favourite plants, fruit, vegetables and herbs.
Miniature greenhouses allow you to make the most of available sunlight, providing the optimal conditions for year-round cultivation. With our range of small lean to greenhouses, 4ft lean to greenhouses, mini growhouses and cold frames, you'll be sure to find the perfect one for you and your garden.
Grow flowers, herbs, fruit and vegetables in these space-saving miniature greenhouses and enjoy a green-fingered lifestyle all year round, regardless of how little outdoor space you have available.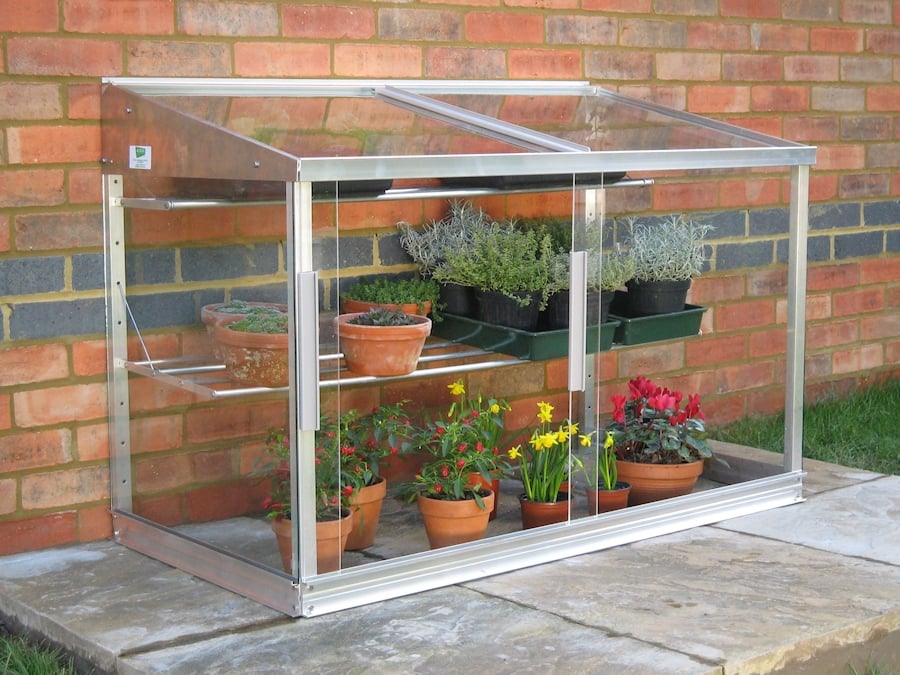 ---
Our range of Miniature Greenhouses
We have an extensive range of miniature greenhouses that are suitable for all types and sizes of gardens, what you would like to grow and all levels of abilities.
Classic lean to miniature greenhouses
Our classic small lean to greenhouses have been designed for even the smallest of gardens as they provide plenty of growing space whilst taking up minimum ground space. Unlike cheaper plastic miniature greenhouses, our products are designed to last a lifetime, giving you optimal ease and enjoyment all year round.
Shop Now
Value lean to miniature greenhouses
Our 4ft lean to greenhouses are perfect for growing more delicate plants that sometimes don't survive more difficult conditions and they're also the best solution for those who have small gardens and need to save space.
These miniature greenhouses are slightly cheaper than the classic ones, because they are designed using 3mm horticultural glass as opposed to 4mm. Although it's slightly thinner, it still lets in all the light and traps all the heat you need to produce perfect growing conditions.
Shop Now
Small greenhouses
Our small greenhouses have been designed with the small garden in mind and are a perfect solution if you have limited space outdoors. Small greenhouses are narrow in depth, allowing it to sit easily in a narrow passageway or a small courtyard garden.
Shop Now
---
Benefits of Miniature Greenhouses
There are many benefits of miniature greenhouses and you'll soon learn that you simply can't live without one.
Save on space whilst having ample room inside for plant pots, seed trays and grow bags

Can be used for overwintering and protecting plants from harsh conditions

Can be used to bring in seedlings and crops in the spring and summer, such as peppers or chillies.

Several heights available, including options for tomatoes that need extra height for growth

Half-height options for seedlings and peppers and can be placed under a window if needed

Created using an exceptional quality framework so they can be fitted to a wall or a sturdy fence

Made with toughened glass, providing excellent light transmission and the ability to trap warmth on early spring days

Made with a unique sliding door design, providing easy access and superb ventilation and preventing overheating in summer

Adjustable seed tray shelves are also included for maximum versatility

Come with a 25 year framework guarantee, giving you peace of mind
---
When to use Miniature Greenhouses
Each season of the year is unique in its own way and can bring with them their own challenges. Luckily for you, miniature greenhouses make it easy to cultivate and grow your favourite plants, herbs, fruit and vegetables all year round.

Spring
During these months, miniature greenhouses are a useful place to start growing seedlings that don't require the warmest of temperatures. They can also be used to harden off tender young plants, such as half-hardy annuals and vegetables and provide a halfway house between large greenhouses and cooler conditions experienced in the garden.

Summer
Miniature greenhouses can encourage faster ripening of larger plants as they can provide extra warmth for tender summer crops, such as aubergines, tomatoes and chillies. They can also be used to propagate plants if you don't have space for this anywhere else or don't want to so indoors.

Autumn
This can sometimes be a tricky time to grow plants, but miniature greenhouses can protect cuttings and younger plants from cooler and more unsettled weather after the summer, especially when we start to see the first mild frosts of the year.

Winter
The toughest time of all and miniature greenhouses are here to save the season. They can be used to shield plants from rain, wind, snow and all other elements, preventing them from low temperatures and frosts and to overwinter plants to help them survive the harshest of conditions.
---
If you found this information useful, you'd love our gardening blog.
Visit our blog
---