Garden Products UK
Access Garden Products has been supplying gardeners of all abilities with miniature greenhouses, mini growhouses, cold frames and lots more for over 60 years, transforming gardens into stunning outdoor spaces for all the family to enjoy.
Our UK gardening products are innovative, aesthetic and designed to take your garden to the next level, coupled with excellent quality and customer service, making us one of the most reputable online gardening store in the UK. Our garden products also come with a 25-year framework guarantee.
Why Access Garden Products?
The great outdoors and spending quality time in a luscious green space does wonders for our health and happiness. Not to mention growing your own fruit and vegetables is the perfect way to improve your diet and live more sustainably.
Access Garden Products has everything you need to make this all part of your everyday life, so you can grow, cultivate and harvest whatever takes your fancy all year round, regardless of what type of garden and equipment you have. With our gardening products, you'll be able to grow fruit, vegetables, herbs, seedlings, plants and flowers every month of the year as our designs are built to handle any type of British weather and conditions.
If you would like any advice on our gardening products or have a question you'd like to ask one of our experts, please don't hesitate to contact us.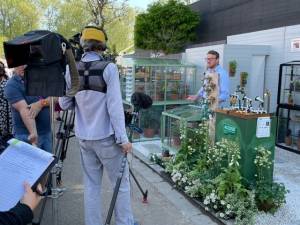 Our Mini greenhouses were featured on episode 6 of the BBC1 Chelsea Flower Show coverage on 24th May. JJ Chalmers presented a segment on the benefits of growing under glass.
In terms of lead times, we are quoting up to 7 days despatch for uncoated models, 2-4 weeks lead time for coloured models (depending on colour) and 1-2 weeks for wooden raised bases.
We also have a range of excellent products for the keen gardener – ranging from wooden raised beds to glass bell cloches and innovative garden gifts – the perfect additions to your garden.
Access Garden Products is based in the small Northamptonshire village of Crick. Established 60 years ago, our first product was the Access Cold Frame. Since then the company has grown and diversified into mini greenhouses. As well as selling garden products online, we exhibit our cold frames and mini greenhouses at flower shows such as Chelsea and Hampton Court.
Mini Greenhouses
Many gardens are too small for a conventional greenhouse, so we produce a range of high quality mini greenhouses. Our mini greenhouses are designed using a very strong aluminium frame, glazed in toughened safety glass for excellent light transmission and heat retention. Mini greenhouses come with a built-in shelving system for plants and seed trays. A watering system is also available. The mini greenhouses easily fit against a wall or fence. For more information read our blog 'Guide to Mini Greenhouse Growing'.
Cold Frames
Our cold frames (or garden frames as they are also known) are made from toughened glass and architectural aluminium. The glass panels slide for easy access and infinitely variable ventilation. Shelves and mist watering can also be added.
Growhouses
For small properties without a suitable wall, we have a free-standing growhouse range. These growhouses have a glass back, to allow plenty of light in. For security, our growhouses have the option of ground fixings and are designed to withstand strong winds.
Glass Bell Cloches
We sell a range of glass cloches, including hand-blown glass bell cloches available in three sizes or as a set of three. Glass bell cloches will protect more delicate plants in the garden and are heavy enough not to blow away in the wind.
Garden Gifts
There are only so many spades you can buy a gardener! Our "Gifts for Gardeners" garden gift range provides a wide range of gift ideas for the discerning gardener. Our decorative watering cans are very popular. As is the ATP gift range. For the keen gardener and tea drinker there is a wide range of gardening mugs with an innovative "anti bug" top.
Garden Watering
We sell professional quality garden watering systems for gardeners. From drip lines and mini-sprinklers to water the border, to tap timers and rainwater storage tanks – everything you need to water your garden effectively.
If you would like to know more about any of our products before you buy, contact us on 01788 822301 or email [email protected].