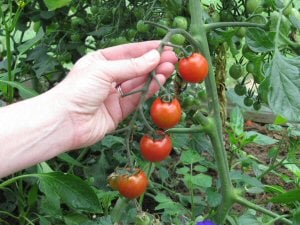 A delicious fresh tomato pasta sauce recipe:
For this recipe I used home grown tomatoes, basil mint leaves, onions and garlic!  How fab is that?!
2lb fresh tomatoes – skinned.
2 table spoons olive oil
3 medium size onions
2 or 3 cloves garlic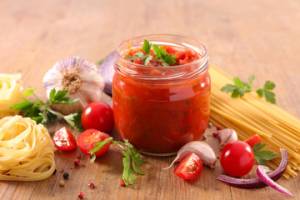 12 leaves of fresh basil
A wedge of fresh parmesan
Salt and pepper
2 tablespoons Crème fraiche
Drop the tomatoes into boiling water for a minute and peel off the skins.
Peel the onions and garlic – chop finely and sauté in the oil until soft.
Add the tomatoes that have been chopped, saving a couple of tomatoes to one side for later.
Add the basil, salt and pepper and simmer on a low heat for 1 ½ hours until the liquid has reduced and it looks thick and not watery.  Then add the other tomatoes you had saved.  You can grate some parmesan in at this stage if you want to.
Just before serving, add the crème fraiche and stir in.  Allow to heat up again and serve on the pasta of your choice.  Grate with parmesan and sprinkle torn basil to serve.
And there you have it a fresh homemade tomato pasta sauce all ready to ready. If chillis were ready, I would have added a chilli to make it a bit more interesting!
I think some crispy streaky bacon added would also be nice.