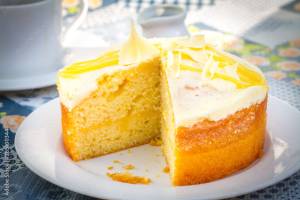 This is the easiest and most delicious cake I have ever made.  I have given them as presents when they are still warm and then it tastes like lemon pancakes!
Oven temp 180°C
1 round cake tin with a greased proof paper insert in it. (You can get them from Lakeland on line).
Weigh 3 eggs – usually equated to about 7oz
Then weigh the same amount that your eggs weighed of
white sugar i.e. 7oz
Self raising flour
Margarine (Stork)
(in other words, your eggs, flour, sugar and marg should all weigh the same)
2 lemons
1 tsp baking powder.
Put all the ingredients into your food mixer.  Remove the lemon rind with a grater and add that to the mixture.
Place the cake mixture into the cake tin and bake for 1 hour.
Juice the lemons and add as much sugar as you fancy to the juice. Start with 2 table spoons and see if that's enough for your taste.
As soon as you remove the cake from the oven carefully pour over the lemon and sugar juice.  It will steam and make a sizzle noise – it's ok, it will.
The juice soaks into the cake and the sugar goes all crispy on top.
That's it – the secret cake recipe is out!!
Let me know if you do make the lemon cake and if you liked it!
For some, Mothers Day isn't an easy day.  When your Mum is no longer in your life it can be a sad day when you can cope all the other days of the year, but on this day, you miss your Mum.
Try to turn it to a positive and remember the lovely times you had together.  I love to have a sherry whilst making a cake, my Mum and I loved to bake together and she would always finish my Sherry before I had a chance to!
When ever I have a sherry now, I always finish it by raising the glass to my lovely Mum and remember with gratitude how lucky I was to have such a special lady who loved me.