A great recipe for a potato salad:
A pan full of new potatoes
A bunch of spring onions
1 avocado
3 eggs – preferably free range – hard boiled for 10 mins.
Mayonnaise
Salt and pepper
Chives – a handful
A little olive oil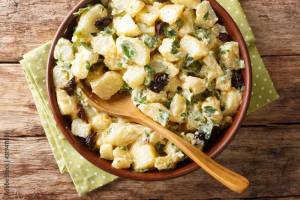 1 lemon
Cook the potatoes until cooked. Drain and let dry out.
Cut the spring onions into little pieces and add to the potatoes – whilst still hot.
Cut up the avocado and pour over the lemon juice to stop it going brown.
Boil the eggs and remove the shell and cut into quarters and add to the potato.
Add the avocado and the olive oil to the potatoes.
Add the mayonnaise and a little of the lemon zest. (I like to use the whole lemon zest, but this is where Mark and I had a difference of opinion), you decide how you like it!  Chop up the chives into tiny pieces and add.
Combine all the ingredients together with a spoon and then add salt and pepper to taste.  Let it stand and cool and all the flavours should merge and create a smooth but lemony taste.
I hope you like it. Let me know if you do make the potato salad.