It seems such a long time ago that we were enjoying light evenings sat in the garden with a glass of wine. Back then Christmas seemed ages away.
But hasn't this year flown by? Here we are with the big day only a heart beat away and dark nights that seem to last forever.
I hope we haven't peaked too soon with the snow. Will it last until Friday to wake up to a magical morning and look out on a snowy garden?
With lots of presents wrapped and delivered, I am starting to think about what to cook that's easy but effective.
My friend Sadie showed me how she cooks the most fabulous 'Irish' roast potatoes. All you do is peel your spuds, place them in a deep baking dish. A knob of butter was added to a pint of boiling water with one or two tea spoons of instant gravy granules. It's very runny and I know you are wondering if I know what I'm doing right now don't you? Pour the watery gravy over the potatoes and grind some black pepper on them and a little salt. Place in the oven and let them cook slowly. The potatoes will cook, the water reduces and you are left with a lovely roast potato that tastes wonderful, with a gravy pool in the bottom of the dish. I have also chopped an onion finely and sat the potatoes on the onion. Let me know what you think.
Now this is a recipe I have wanted for a long time and plucked up the courage to ask for it earlier this year. I have a friend who made this cake for me last Christmas. I wanted an alternative to the traditional fruit cake and decided this was a Rudolph cake instead. He delivered it to me on Christmas Eve with caramel spikes sticking out of it and real glazed carrots on the top! Fabulous. He has moved house but kindly gave me the recipe. Thank you Simon. X
Carrot Cake
This will make a 15cm 6 " cake.
3 medium eggs
200g – 70z light brown sugar
250 ml – 8 fl oz ground nut oil
200g – 7 oz self raising flour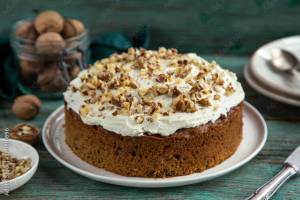 1 teaspoon cinnamon
1 teaspoon ground nutmeg
Pinch salt
250g – 8oz carrots
100g 3 ½ oz sultanas
100g – 3 ½ oz chopped mixed nuts
Cooking time 1 ½ – 1 ¾ hours 150 C – 300 F
Method.
Butter and line a cake tin. Beat together the eggs, sugar and oil for about 5 minutes.
In a separate bowl, mix together the flour, cinnamon, nutmeg and salt. Add the carrots, sultanas and nuts and fold into the egg mixture.
Pour the mixture into the prepared tin and cook for the time and temp indicated above. It's ready when firm to the touch and well risen. Leave the cake to cool before removing from the tin.
It is simply delicious like this, or you could cover with a tub of cream cheese with some icing sugar mixed into it for your own sweetness.