Think herbs – think Jekka McVicar

The first raised bed which measures 4' x 4' is now empty of onions and cabbage.
It's nearest the house and is just begging to be a pretty herb bed.  I love to see an organised herb bed displaying lots of beautiful varieties and colours.
Over breakfast at Hampton Court, I said to my colleague that I wanted to visit Jekka McVicars stand.  She is world famous for her herb farm and displays at Chelsea Flower Show etc.
Unbeknown to me, the two ladies at the next table in the dining room were working for Jekka.  One of them heard me talking and said, 'we work for Jekka!'  How fantastic was that!  So we had a quick chat and confirmed we would visit the stand later.
Such a lovely welcome when we arrived.  The stand looked lovely displaying perfect herbs in vibrant colours.  Bergamot was one that caught my eye – bright red not a shy plant by any means.  The ladies welcomed us into the covered stand and showed me which catalogue I needed.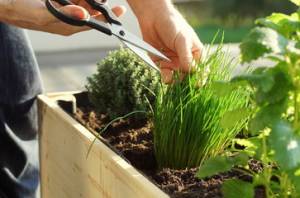 Jekka was there and came to see if she could help me.  What a service.  I explained about my raised bed and she even suggested that I email her with my ideas of what I want to plant and where to plant them and she said she would study it and get back to me with any suggestions she might have to make a better impact.  I was so chuffed to speak to her and hear her advice.
So watch this space, I will write to Jekka this week and let you know her advice.
You can visit her website at www.jekkasherbfarm.com