Timber Raised Beds for easier gardening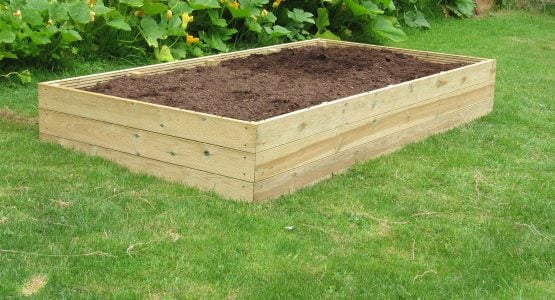 Access manufacture a range of pressure treated timber raised beds for the gardener.
Raised bed growing has a number of benefits over growing directly in the earth. If the soil is of poor quality, very heavy or not very well drained, then the raised bed allows organic material to be mixed in with the existing soil to improve drainage and fertility. Raised beds also reduce bending and allow permanent paths to be laid between beds. It is also easier to keep the beds weeded and slug and snail free – copper tape around the bed edge is a very good solution.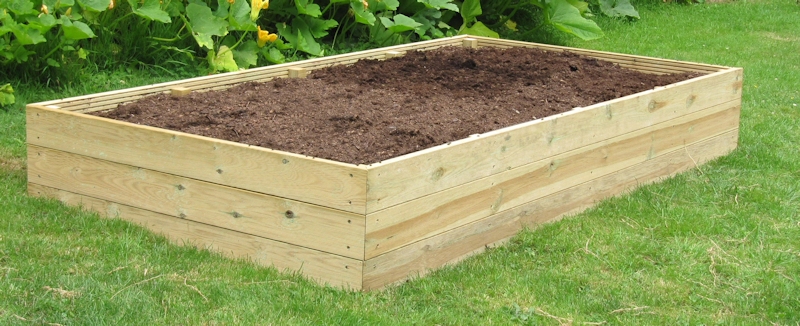 Access timber raised beds have a number of advantages:
Thicker than standard boards – the timber raised beds are manufactured from 1 1/4″ board compared to the standard 1″ boards. Once planed this results in a 25mm x 116mm board. The boards are all pressure treated for a long outdoor life and have mitred joints for a neat finish. The timber has a design life of 10 – 15 years when used outdoors in contact with the soil.  Click here to order our timber raised beds.
RHS approved timber – all of the timber we use complies with the strict Royal Horticultural Society timber policies and is supplied via a PEFC approved supplier. The preservative used to treat the timber raised beds is designed to be environmentally responsible and uses copper based solutions to combat decay in the wood.
Stainless steel fixings – the heads of traditional steel screws rust after a few years, allowing boards to break free. As the soil will fall out behind the board this is a time consuming problem to fix. Stainless steel screws may cost more, but saves time in the long run. All screw holes on the timber raised beds have been pre-drilled for simple on-site construction.
All timber raised beds are cut to order – reducing problems with the wood splitting and warping between having been cut and being assembled.
Compatible with Cold Frames – all our beds are compatible with our Cold Frame range, allowing even earlier crops and a longer growing season.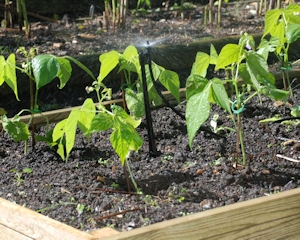 Mist watering – optional mist watering kit allows beds to be quickly and easily watered. Connects to a standard garden hose fitting.
Flexible design – A popular option is 3 or 4 timber raised beds with a single Cold Frame which can be rotated from bed to bed, warming the soil in the early Spring. The frames simply drop onto the base with a specially designed recess preventing the Cold Frame from moving off the base during high winds.
Straightforward Assembly – watch our time-lapse video of see how quick and easy it is to assemble. Unfortunately even our installers can't beat 1 minute 6 seconds for constructing 4 raised beds!