Access Cloches in RHS Wisley Herb Garden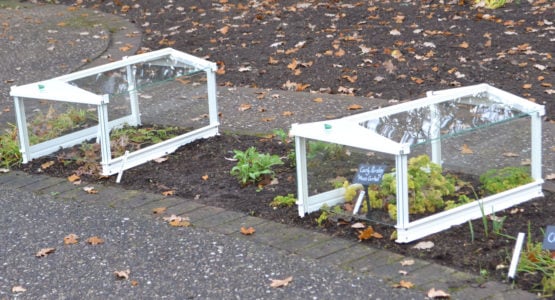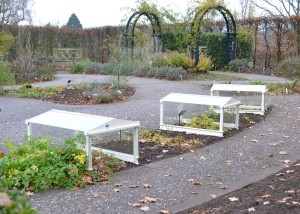 The RHS garden at Wisley is one of the most spectacular gardening venues in the UK, with a huge variety of plants and trees from all around the world. A team of permanent gardeners and volunteers maintain the garden throughout the year. A number of areas are dedicated to practical growing ideas including the Model Vegetable Garden and the Herb Garden.
Access were pleased to be able to supply 3 cloches to the Herb Garden recently, to protect some of the more delicate herbs over the Winter. The cloches will also warm the earth in early Spring, providing a boost to the plants.
Unlike plastic cloches, glass traps the long wave radiation within it, making a glass cloche much warmer than its plastic equivalent. Glass also lets more light into the cloche and is more durable than plastic – which is why houses still have glass in their windows rather than plastic.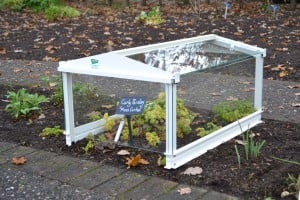 The RHS website states that "The best glazing material is glass, as it lets 90 percent of light through, does not degrade in sunlight and, unlike plastic materials, reflects heat radiated from within the glasshouse back into the structure instead of being lost".
For safety, the glass in the cloches is toughened – the same sort of glass that you would have on a glass coffee table or in the side windows of a car.
The framework of the cloche is manufactured from architectural aluminium for a very long life and is available either in a plain aluminium finish or in an Ivory powder coated finish. The powder coating echoes the traditional ivory painted cast iron cloches of the Victorian era and is baked onto the aluminium to provide a durable and long lasting finish.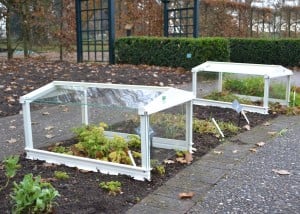 The glazing of the cloche is removable – the end panels can be removed if several cloches are being placed in a row and, for access and watering, the roof glass can be removed.
Cloches are available from Access Garden Products in two sizes; a tall cloche for protecting delicate plants in the border and a long cloche for row crop work.