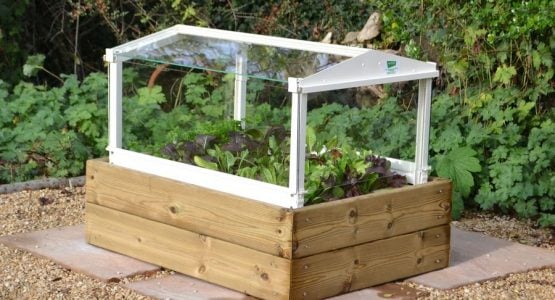 Ever dreamed of having a ready supply of fresh salads or herbs just outside the kitchen door?
The Access Salad Cloche provides a small protected area for growing your favourite herbs and salads. The timber base is designed to stand on a patio and be filled with compost. Into this base salad crops and herbs can be planted. If the base is placed on soil, then deeper rooting crops such as carrots can also be planted into the base.
The glass cloche sits on top of the base to protect the plants from the wind and the rain. In the early springtime the glass traps the warmth of the sun, warming the soil and boosting growth rates. Even in early February, if the cloche is in the sun, the temperature inside can reach 20 degrees Celsius.
To ensure the cloche does not overheat, an ingenious ventilation system is built into it. Small slots at the base of the cloche and the eaves allow convection ventilation to be established as the temperature rises, preventing the cloche from getting too warm. Later in the season the roof panels can be removed, protecting the plants from the wind, but allowing rain to enter and water the plants.
For safety, all of the glass in the cloche is 4mm thick toughened safety glass. Unlike plastics, glass traps the sun's warmth – important for early spring growth; it also provides weight to the structure to stop it blowing away. The base is constructed using pressure treated timber for a long life, and is fixed together with stainless steel screws.
Given a sunny location south of the English Midlands, and the right choice of plants, it should be possible to keep a steady supply of salads right through the winter.
The salad cloche is available either in plain aluminium finish, or with an Antique Ivory colour coating.