Glass Bell Cloches – ideal for protecting plants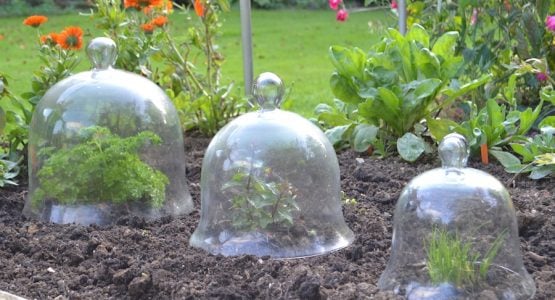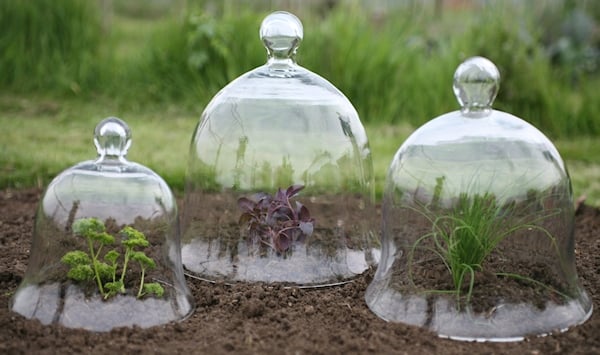 Glass Bell Cloches are ideal for protecting delicate plants or herbs in the border of the garden, or for bringing on salad crops such as lettuce during the Winter months. The cloche can be placed over the plant at night and removed in the day, or a piece of wood can be placed under the rim of the cloche during the day to ventilate.
Our glass cloches are hand blown for that authentic Victorian look and incorporate a glass ball on the top to allow the easy lifting of the cloche. Traditionally the lifting ball of the cloche was made of solid glass, leading to problems with the glass acting as a lens, so to prevent this these cloches incorporate a hollow centre to the ball.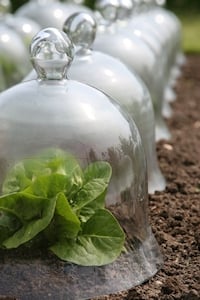 Although we associate glass bell cloches with British gardening and the traditional Victorian kitchen garden, growing under glass originated in Roman times where they used pieces of glass in frames to protect Cucumbers. In the 16th century Venetian glass blowers were able to produce hand blown glass domes, but it was the French who perfected the growing of crops under these glass domes – hence the French name cloche (French for bell).
In the early 1900's crates of lettuce, carrots and other vegetables came to London from Paris every year between Christmas and March. These vegetables were produced under glass cloches on 'hot beds'; these consist of manure placed in the growing bed which decomposes to raise the temperature. Even when there is frost all around, a hot bed will maintain a temperature of 8 degrees Celsius – enough for early vegetables to germinate. The glass bell cloche then provides the protection to ensure that the crop is protected from the wind and rain.
Unlike the plastic versions of these Glass Bell Cloches, the glass traps the warmth of the sun, keeping temperatures up. In addition the weight of the glass ensures that the cloches won't blow away in the winter gales.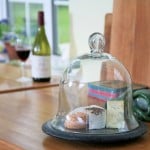 The smaller glass bell cloches can also be used indoors to protect house plants, ferns or even cakes and cheese! The glass bell is hygienic and looks good in any kitchen. Pair the cloche with a wooden or slate base for the ultimate kitchen display case!
Three different sizes of Glass Bell Cloche are available from Access. The small bell cloche has a diameter of 8″ (20cm) and a height of 8″. The medium cloche has a diameter and height of 10″ (25cm); and the large cloche has a height of 30cm (12″) and a diameter of 30cm. They are also available as a set of 3 cloches.