Alpine Frames for RHS Harlow Carr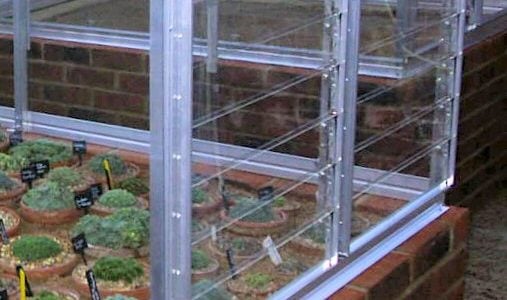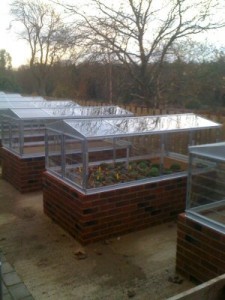 To provide additional space for their Alpine collection, Access have supplied a number of 8′ x '4 and 6′ x 4′ Alpine Frames complete with louvre vents for extra ventilation. To flourish, alpines don't need heat, but they do need protection from winter wet, as well as good air circulation. The function of  Alpine Frames is perhaps the opposite of what you may expect of a typical glasshouse or cold frame. The main priorities are to keep the plants dry, free of frost and cool.
The sturdy Alpine Frames are very popular amongst Alpine growers as their siding glass panels provide excellent ventilation, whilst keeping the worst of the weather out of the frame. The strong aluminium structure is designed to cope with several feet of snow on the roof – essential for the weather conditions in Harrogate. Glazing is 3mm toughened safety glass. Glass has the advantage of being very rigid, so it will not blow out even in strong winds.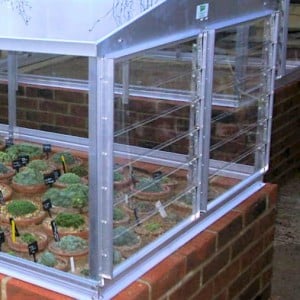 As standard the louvre vents ventilate 1/2 of the end of the frame, but for Harlow Carr double units were installed into each end, filling the entire end section. This allowed a permanent through-flow of air even during windy and rainy conditions.
For ease of use, Harlow Carr built a brick plinth for each of the Alpine frames. The frames were secured down to the plinths to prevent movement during high winds.
The Alpine Frames are used as an overflow area for the Alpines that are not on display in the RHS Harlow Carr Alpine House. Sitting majestically at the top of the valley, affording a stunning view of the Woodland, the 24m (80ft) glass Alpine House provides a valuable setting for the display of these inspiring plants. The Harlow Carr collection houses over 2,000 species of Alpine, from all over the world.