Brass Hose Fittings for better connections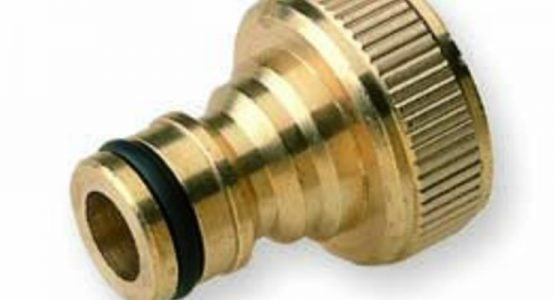 These brass hose fittings are compatible with the popular Gardena and Hozelock type garden hose fittings, but are far sturdier. Manufactured in Italy these connectors come with a 3 year domestic use warranty and are manufactured to professional standards. Click here to purchase brass hose fittings.
Brass hose fittings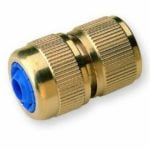 Unlike plastic hose connectors these brass hose fittings won't blow off, thanks to their stainless steel ball bearings which lock onto the tap connector and the nylon teeth which dig into the outer wall of the hose. The brass outer compression ring also allows more 'bite' into the hose than their plastic equivalent. The inner core of the hose connector is manufactured from limescale resistant material to reduce problems in hard water areas.
The brass tap fitting is also much, much stronger than plastic 'snap-on' fittings. This ensures that tugs on the hose don't shear the fitting off the tap. A thick washer on the inside of the tap fittings ensures a leak-free connection onto the tap. Watch the video to find out more information on these high quality fittings.
Solid Brass Tap Manifolds
These cast brass tap manifolds allow two or three hoses to be connected to a single tap. Each outlet is fitted with a leak free ball valve to allow the manifold to withstand full mains pressure – essential if you are using the manifold to mount an irrigation timer. The taps use stainless steel 1/4 turn balls inside which are mounted in Teflon seals for durability.
The two way connector is available either with 3/4″ threads on the outlet, allowing watering timers to be fitted, or with built-in quick connector outlets to allow hose connectors to be fitted. The three way connector can be used to mount two of our Galconette tap timers onto it and still allow a hose to be connected to the central valve.