6 ft Half Growhouse – ideal for overflowing greenhouses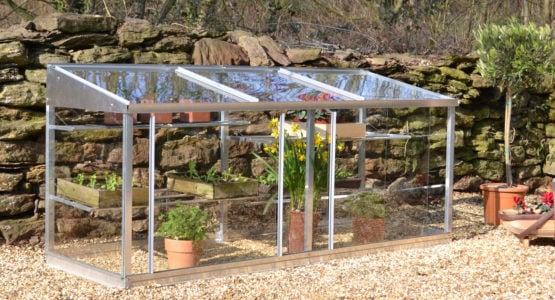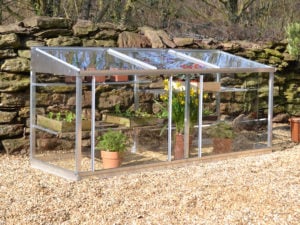 This 6′ long half height Growhouse has a glass back to enable it to stand anywhere, while ensuring light levels inside the Growhouse are maximised. It makes an ideal overflow area adjacent to a Greenhouse, and the glass back will ensure plenty of light still enters the greenhouse.
Seed tray shelves provide plenty of overflow space for young plants, with the adjustable ventilation allowing the plants to be hardened off effectively. In the Summer the shelves can be removed, allowing the Growhouse to be used for bush tomatoes and chilli plants, with the sliding front and roof panels being opened wide to prevent the plants from overheating.
The half Growhouse is shown in the photograph with an optional timber base with slatted floor. The base raises the plants off the damp ground, keeping them drier and reducing disease problems. The base also reduces bending!