Midi greenhouse – the versatile all-rounder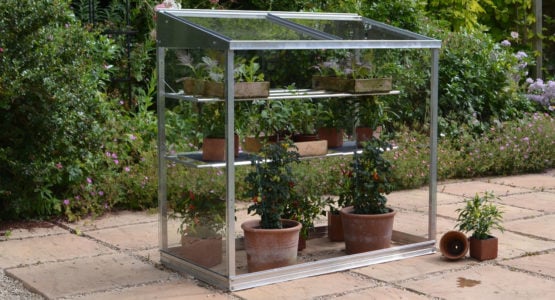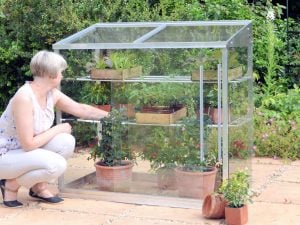 Launched at the RHS Tatton Flower Show the Midi Greenhouse is the latest addition to our popular Growhouse range. Standing at 3′ 11″ (1.17m) high, the Midi Greenhouse provides plenty of growing height for taller crops. The extra height also provides more headroom on the adjustable seed tray shelves.
The greenhouse is ideal for starting off seedlings and plug plants in the early Spring. Once these have been planted out Summer crops such as Tomatoes, Cucumbers and Aubergines can be grown. The sliding doors allow easy access and also excellent ventilation.
Inside two deep seed tray shelves are included, which will hold a total of 10 seed trays. An additional narrow shelf is available as an option, which will hold another 3 seed trays. In addition to the shelves, 8 seed trays can be placed on the floor.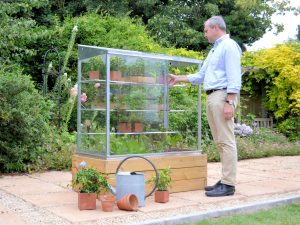 Designed to cope with strong winds, the Midi greenhouse also includes a ground fixing kit to enable it to be bolted down to slabs or concrete.
An optional timber raised bed is available which will allow soil grown crops to be grown inside the Growhouse. This is ideal for gardens which do not have a vegetable patch. As the soil inside the raised bed will warm up quickly, the raised base is particularly suitable to very early salad and vegetable crops – in fact, south of the English midlands, it is possible to grow salad crops all year round.
The framework of the Midi Growhouse is architectural aluminium, which comes with a 25 year guarantee, and the glass is toughened safety glass. The glass traps the sun's heat, making it warmer than a plastic glazed greenhouse. Glass is also more resistant to heavy snow falls, two or 3 feet of snow can be allowed to build up on the Growhouse roof. Two large glass doors slide at the front of the Growhouse to give a large opening for easy access and excellent ventilation.