Growing Ginger in a Greenhouse in the UK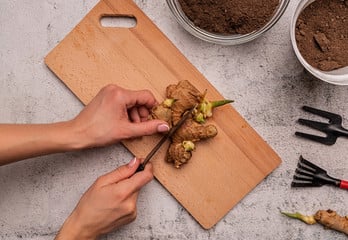 Growing  ginger, a versatile, healthy, delicious and spicy root vegetable, is easier to grow than you might think. Ginger (Zingiber officinale) can be grown in the UK, it's ideal environment is a greenhouse where the temperature can be maintained. Ginger thrives in temperatures around 27 degrees Celsius (80 degrees Fahrenheit) and ideally humidity at 50%. You will however, need to keep your greenhouse heated if you want to continue to grow ginger through the colder, winter months.
Here is our guide to help you get started.
Select your ginger.
Choose a healthy, well developed rhizome (the part of the plant that you can eat) also known as ginger root. Try and find a piece with nodules (growth buds), these resemble the nodules that grow on potatoes. If you have bought your ginger from a supermarket, then soak the ginger in warm water for 24 hours to wash any growth retardant away, and to soften the root.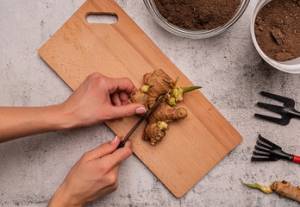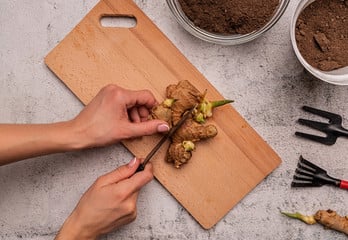 Planting your ginger
One rhizome of ginger can produce several plants. Cut or break your ginger into separate pieces, ensuring that each part contains one or two growth nodules. Put each piece in a shallow seed tray filled with well draining potting mix, around 2″ deep, with the nodules/eyes facing upwards so it has freedom to grow. Keep the soil moist, but not over watered. Once your plants start growing, and the shoots are showing, they will need to be potted-on into pots around 12″ deep. Add some organic mulch, straw or compost, to the soil to help retain moisture and to protect your young plants.
Caring for your ginger plant
Use a fertiliser with a higher potassium content at least once a month. Ginger likes to be fed, and prefers a gentle mist of water to a heavy flow. So, check the soil levels regularly, and avoid waterlogging as this can cause rot if the soil is too wet. Also, be mindful on really hot days that your ginger will need protection from scorching, so use shade to protect your plants.
Ginger in the Greenhouse
Growing Ginger in a greenhouse will boost growth and make the most of the summer sunshine. Ginger is native to humid tropical and sub tropical areas of South-East Asia, so will struggle in the UK if the summer is poor. Growing under glass will give the ginger a boost by raising the temperature, and keeping it out of the damp, but make sure the Ginger has some shade as it does not thrive in the full sun. A small mini greenhouse with sliding doors is ideal for preventing the greenhouse from becoming too hot, and a shade can help.
Harvesting your Ginger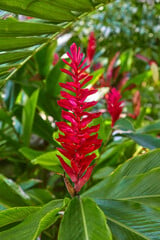 Your ginger plants will be ready to harvest after around 8 – 10 months. You will see the rhizome developing through the soil and the leaves start to turn yellow and start to wilt. You don't have to harvest all of your ginger at the same time, you can leave it to continue growing. Gently dig up your plant, being careful not to damage the rhizome. Once you have dug up your plant, save part of the rhizome to replant for your next crop.
Storing your produce
Store harvested ginger in a cool, dry, dark place. It will last for weeks, but freezes well too. Just grate it as you require some or peel it, grate or slice it and freeze it ready to go. Ginger can last up to a year in the freezer.
Enjoying your homegrown ginger
Ginger has an aromatic and spicy flavour, and is versatile in that it can be used for savoury dishes, desserts, drinks (hot tea or cold juices) and preserves. As well as adding flavour to your recipes, ginger has many health benefits, it contains antioxidants and anti inflammatory properties. Ginger can help to improve coughs and colds, and it has long been used in traditional medicine to fight off infections, to relieve headaches and to stave off nausea in addition to various other purposes.
For a quick boost ,try a ginger shot. Take a chunk of ginger, to taste (leave the skin on or peel using a spoon), 400ml fresh apple juice/2-3 apples, cored, and 2-3 tablespoons of fresh lemon juice. Pop the three ingredients in to a blender or juicer and blitz  until very smooth. If using a blender, to make the shots extra smooth pass the juice through a clean, thin tea towel or piece of muslin, over a sieve into a jug. Delicious served cold and will keep for a few days in a refrigerator.
So there we have it – a quick and simple guide to growing ginger in the UK and remember a cold frame or a small greenhouse will ensure you always have a bumper crop, even in poor summers.