Growing Herbs In A Greenhouse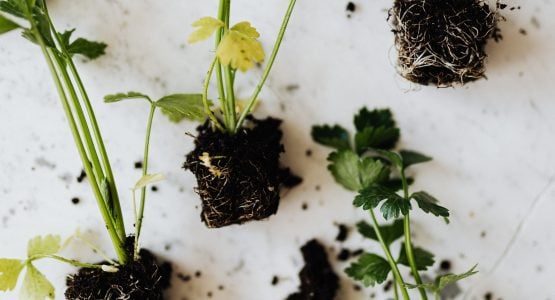 Fresh herbs make a wonderful addition to just about any dish, allowing you to create an exciting depth of flavour or evoke the cuisine of a particular country. If you find yourself regularly using herbs in your cooking, you might be interested in growing your own to ensure a consistent supply. 
Herbs purchased in a shop are much less fresh than those you'd pick yourself from your garden and often come with wasteful packaging that is damaging to the environment. Regularly buying fresh herbs from a supermarket or greengrocer can also be expensive, and when a single bunch costs around the same as a packet of seeds, it makes much more sense to simply grow your own.
Can you grow herbs in a greenhouse?
Most herbs are perfectly happy to grow directly in the soil in your garden, but they are also able to grow and thrive inside a greenhouse.
Whether you have a mini greenhouse or a full-size glasshouse, it allows you to grow almost any herb in your own garden with extra protection and reliability.
What are the benefits of growing herbs in a greenhouse?
Although it's not essential, there are many benefits to growing herbs in a greenhouse.
Grow herbs year-round
A greenhouse helps to regulate temperature and retain moisture in the soil, allowing you to extend the natural growing season of your herbs. This means that you can enjoy fresh herbs out of season.
Protection from unpredictable weather
The safe environment of a greenhouse offers delicate herbs lots of protection, ensuring healthy growth and minimising loss of plants. It shields them against heavy rain, hail, freezing conditions and excessive sunshine, all of which can cause your herbs to struggle or die.
Protection from pests
There are plenty of beasts in your garden that might fancy a taste of your freshly grown herbs. The physical barrier afforded by a greenhouse makes it much easier to keep caterpillars, snails and rodents at bay while keeping your herbs free from pesticides.
What herbs grow well in a greenhouse?
You can grow almost any herb in a greenhouse but they are particularly useful for growing sensitive annuals that are too tender for the garden. These include:
Basil

Chives

Coriander

Dill

Parsley
 You can also extend the growing season of hardier herbs by placing them in a greenhouse. These include:
Oregano

Rosemary

Sage

Thyme
Tips for growing herbs in a greenhouse
As with any plant, it's important to properly monitor your herbs to ensure that they stay healthy and flourish year-round.
Don't over-water
It's important to water your herbs until the soil is moist, but allowing them to dry out slightly in between waterings helps them to develop a strong root system.
Pinch and prune
Pinch off any flowering stems to extend the growing season of your herbs and to prevent them from going to seed. You can also prune the small leaves at the top of the plant once they are a few inches tall, allowing the larger leaves at the bottom to create a sturdy base.
Let them breathe
Fresh air is incredibly important for healthy plant growth. Make sure to regularly ventilate your greenhouse to prevent stale air, which can lead to fungus growth in the warm, moist environment.