Growing Tomatoes In a Greenhouse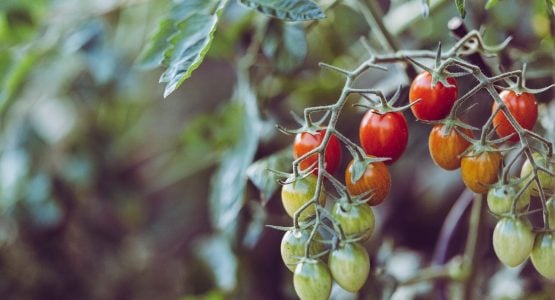 Tomatoes are relatively simple to grow, with a good yield of fruit from just a few plants. We've run through the basics of growing tomatoes in a greenhouse.
Planting Vine Tomatoes In a Greenhouse
Tomatoes grow as vines or bushes, with vines being best-suited to greenhouse growing and the bush variety better suited to outdoors, or inside a Mini greenhouse. It tends to be easier to get a good crop when growing in a greenhouse, as you can provide a better temperature.
If starting from seeds, sprinkle the seeds on a seed tray filled with compost, and cover them with just under 1cm of compost. Keep the tray somewhere warm, but out of direct sunlight, and keep the compost moist. Be careful not to over-water it, as this can lead to mould diseases.
When the seedlings appear, move the tray to somewhere bright and warm, and by around day 60 they should be able to be potted. When moving to pots, mind not to touch the stems and handle them by the leaves. Protect the potted plants from wind, frost and cold – inside the Mini greenhouse is ideal. Once the plants reach 6-8 inches tall they're ready to be planted on in the greenhouse. You can choose whether to grow your tomatoes in large pots, a growbag or, if growing outside, in the border.
Caring For Your Tomatoes
Watering
If you're growing in a container, you'll need to pay extra-close attention to watering, but generally, tomatoes need a lot of water, and when it's warm you should be watering at least every other day. That being said, over-watering can be an issue with tomatoes, so little and often is key. Try and water regularly to avoid a nutritional imbalance in the plant, which can lead to blossom end rot.
Water straight to the roots, rather than from above, which can encourage disease and pests. Every ten days or so, feed the plants with a liquid fertiliser, and change this to a potash rich fertiliser when the first fruits appear.
Side Shoots & Staking
Vine tomatoes are trained as a single stem (cordon), and this will require staking so that the plant doesn't collapse under its own weight. Place a bamboo cane in the soil next to the plant, minding the roots, and use twine to tie the cane to the stem.
Side shoots will need to be removed from the main stem as soon as they're spotted. They can be cut off, or snapped off by hand if small enough. Removing side shoots from your tomato plants helps in several ways – it means the fruits don't end up shaded by leaves, and that all energy goes into growing the main stem, rather than dissipating into side shoots. Be careful not to leave any stubs on the side shoots and check the same points again later in the year.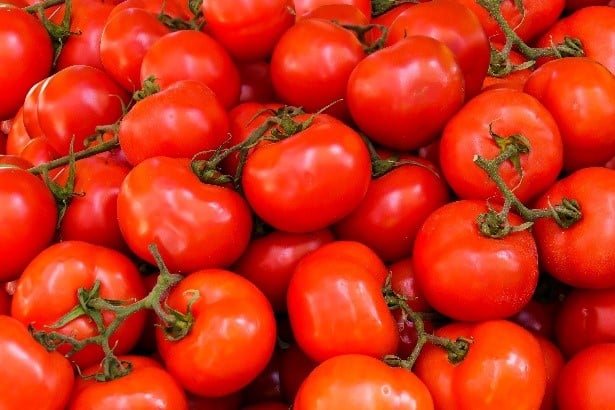 Keep Your Plants Healthy
Tomatoes can be afflicted by problems that largely stem from issues with watering – whether that's too much or irregular watering.
Irregular watering can lead to blossom end rot, which you'll notice if dark blotches appear at the base of the fruit, usually when it's beginning to ripen. By maintaining consistent levels of moisture, you can help avoid blossom end rot. If you spot some tomatoes afflicted by it, simply remove the affected fruit.
Blossom drop is caused by a number of factors, mainly temperature and humidity. If afflicted, blossoms dry up and fall of the plant, and the fruit won't set. You can help avoid blossom drop by planting varieties of tomatoes most suited to your climate, by assisting with pollination by gently shaking the plants, and ensuring your tomatoes are receiving enough water.
Green and white flies can also affect tomatoes – spray some insecticide on the vines if you notice these pests.
Tomatoes are a simple yet satisfying plant to grow, and as the fruit is so versatile you'll find no shortage of ways to use your tomatoes, whether that's in salads, soups or sauces. Have a go at growing your own tomatoes in a greenhouse or a tomato house today!
For a more in depth article of tomato growing, take a look at the Pumkinbeth website. Beth has undertaken an extensive trial on the best tomatoes to grow.