How to heat a greenhouse with a terracotta pot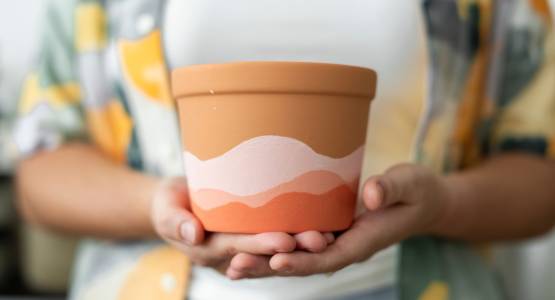 Welcome to our blog, where we explore innovative and budget-friendly solutions for heating your greenhouse. In this article, we will delve into a fascinating technique: using a simple terracotta pot to generate warmth and create a cosy environment for your plants.
Discover the principles behind this ingenious method, learn how to set up the heating system, and maximise its efficiency. Join us as we unlock the secrets of harnessing the natural properties of terracotta to keep your greenhouse thriving, even in colder seasons. Let's dive in and explore the art of heating a greenhouse with a terracotta pot!
Firstly, why is it important to maintain proper temperature in a greenhouse?
Maintaining proper temperature in a greenhouse is crucial for optimal plant growth due to the following reasons:
Extended growing season – greenhouses provide a controlled environment that allows plants to grow beyond their natural seasons. By maintaining an appropriate temperature, you can extend the growing season, enabling plants to flourish and produce crops or flowers when they would typically be dormant or unable to thrive outdoors.
Heat-loving plants – many plants, especially those classified as warm-season or tropical, require specific temperature ranges to grow successfully. Greenhouses offer a way to create and maintain these warmer conditions, allowing heat-loving plants to thrive and reach their full potential.
Cold protection – greenhouses provide protection against cold temperatures, frost, and extreme weather conditions. Maintaining a suitable temperature inside the greenhouse helps safeguard plants from potential damage or death caused by frostbite, freezing, or stress.
Optimal photosynthesis – temperature influences the rate of photosynthesis, in which different plant species have specific temperature requirements for efficient photosynthesis. Maintaining the right temperature range ensures that plants can absorb and utilise light effectively, promoting healthy growth.
Disease prevention – temperature control plays a vital role in preventing the spread of diseases and pests. Certain plant diseases thrive in specific temperature ranges. By maintaining an appropriate temperature in the greenhouse, you can create an unfavorable environment for pathogens and pests, reducing the risk of plant infections and infestations.
Root health and nutrient uptake – temperature affects the activity and health of plant roots. Roots require a suitable temperature range to absorb water and nutrients efficiently. If the temperature is too low, root growth may be hindered, leading to poor nutrient uptake and stunted plant growth. By maintaining an optimal temperature, you support healthy root development and enhance nutrient absorption.
Flowering and fruit set – for flowering plants and those that bear fruit, temperature plays a crucial role in the blooming process and fruit set. Many plants have specific temperature requirements for triggering flowering and ensuring proper pollination and fruit development. By providing the right temperature conditions, you enhance the chances of successful flowering, pollination, and fruit production.
Understanding the principle of terracotta pot heating
There are numerous ways that you can protect your plants in your miniature greenhouse from frost and the cold weather this winter. A low-cost solution that is best for occasional extra heat would be to use an 8/10-hour tea light inside a terracotta pot. The pot must have a hole at the top to act as a chimney and a slight gap at the bottom to allow air to enter.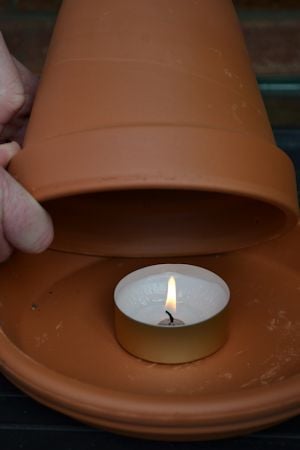 If you have a frame with middle staging and you plan on putting the tea light directly onto a glass, you will need to put down a saucer or an insulated mat underneath to ensure the glass is protected. However, it probably won't be suitable if you are wanting to keep the greenhouse frost free the entire winter. In that case it might be better to look at other options such as a paraffin heater (this will be more suited to a smaller frame) or a fan heater if you have a larger greenhouse. Have a read of one of our other blogs for more information about how to keep a greenhouse warm in winter.
Putting the terracotta pot to the test
One of our gardeners, Anne, used the tea light method to create a 'warm igloo' effect. She was interested to find out how much of an increase in temperature it would create. On a cold evening she lit 3 tea light candles in her 6ft 5 Hampton-D Lean to. She lit them late evening so by her calculations they should last until the following morning to give the sun a chance to come up and start warming the frame up again itself.
The following morning, 10 hours after lighting the tealight greenhouse heater, the outside temperature was 1.5 deg C. Whilst inside the frame it was a very snug 10.5 deg C. If you had a bigger terracotta pot, you would be able to use a small church candle which would have a longer burn time. So, it is a good idea to put a thermometer inside the frame and one outside so you can see how much of a difference it is making.
How does this work?
Heating a greenhouse using a terracotta pot is based on the principles of thermal mass and radiant heat transfer. The process involves utilising the unique properties of terracotta clay to absorb and radiate heat, creating a warmer microclimate within the greenhouse. Here's how it works:
Thermal mass – terracotta pots have excellent thermal mass properties, which means they can absorb and store heat energy efficiently. When exposed to a heat source, such as candles or a small heat-emitting element, the terracotta pot absorbs the heat, acting as a thermal reservoir.
Radiant heat transfer – once the terracotta pot absorbs the heat, it begins to radiate it back into its surroundings, including the surrounding air and nearby plants. This radiant heat transfer warms up the greenhouse space and helps maintain a more stable temperature.
Insulation and heat distribution – by placing the terracotta pot on bricks or stones inside the greenhouse, you create an air gap between the pot and the ground. This gap acts as insulation, preventing direct heat loss to the ground. Additionally, the bricks or stones help distribute the heat more evenly, allowing for better coverage throughout the greenhouse.
Microclimate creation – the heat emitted by the terracotta pot creates a localised warm microclimate within the greenhouse. This microclimate can help protect plants from cold drafts, frost, and temperature fluctuations, providing them with a more stable and favourable environment for growth.
It's important to note that while heating a greenhouse with a terracotta pot can provide some level of warmth, it may not be sufficient for extremely cold climates or during severe winter conditions. Additional heating methods or insulation may be required in such cases. Nonetheless, harnessing the thermal properties of a terracotta pot offers a simple, cost-effective, and eco-friendly approach to maintaining a conducive temperature in your greenhouse.
Does it matter what size frame I have?
Depending on how big your frame is depending on how many tea lights you will need to create a lift in temperature.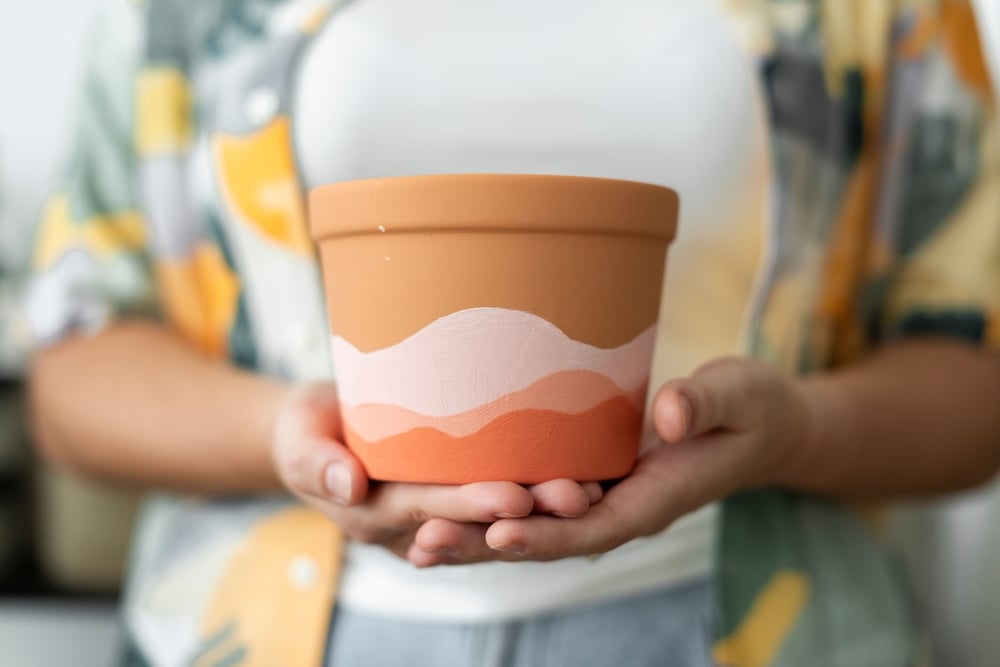 If you have more delicate plants, it will be best if you place them as far away from the glass as possible and closer to the candle.
We recommend:
0.8m- 1m frame 1 tealight
Up to 1.5m frame 2 tealights
Up to 2m frame 3 tealights
If you have a few delicate plants, you could use less candles but would need to make sure delicate plants are all placed together by the candle.
Some safety precautions
If you do intend to use the tea light method to create some warmth in your frame, follow these precautions:
You must be careful with the open flame and hot wax.
If you wrap things in fleece, it's important to make sure there is a gap between the plants or anything that is flammable.
We do not recommend using this method if you have a plastic greenhouse.
If possible, don't leave your greenhouse unattended.
Regularly monitor the pot and heat source to ensure they are functioning properly.
Keep flammable materials, such as dry leaves or paper, away from the terracotta pot and the heat source.
Place the terracotta pot on a stable and non-flammable surface, such as bricks or stones, to prevent any risk of fire or tipping over.
Maintain adequate ventilation in the greenhouse to prevent the buildup of carbon dioxide and to ensure proper air circulation.
If using candles or any fuel-based heat source, ensure there is sufficient airflow to avoid the accumulation of harmful gases.
If using candles, make sure they are placed securely in heat-resistant candle holders or containers.
Consider using LED candles or battery-operated heat sources as safer alternatives to open flames.
Keep the heat source away from any flammable materials, such as curtains or plants, to avoid the risk of ignition.
Position the terracotta pot and heat source in a location where they won't be knocked over or accidentally touched.
Keep the heating system away from the reach of children or pets.
Inspect the terracotta pot regularly for cracks or damage. Replace it if any structural issues are present.
Clean the pot and surrounding area to remove any debris or flammable materials that could pose a fire hazard.
Always exercise caution and use common sense when implementing any heating system in a greenhouse. Following these safety precautions will help ensure a safe and enjoyable greenhouse experience while effectively utilising a terracotta pot for heating purposes.