Tomato Houses for bigger and earlier crops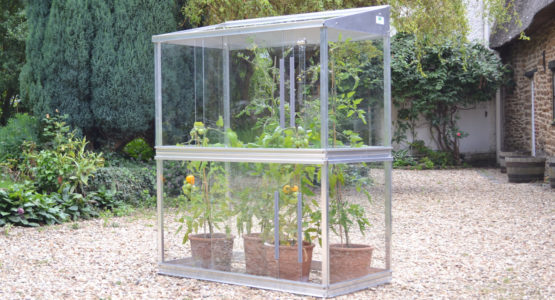 Use one of our Tomato Houses to boost yields and produce earlier crops. Delicious home-grown tomatoes – there's nothing quite like them!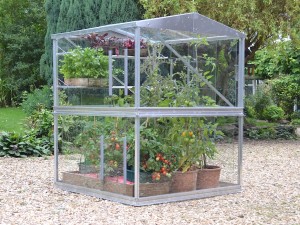 Tomatoes need warmth and sunshine to thrive but in traditional, poorly ventilated, Tomato Houses or Greenhouses, tomatoes can actually become too hot and become heat stressed!
Superb Ventilation
Access Tomato Houses are different, as they provide superbly controllable ventilation – just a tiny amount in the early Spring and lots of ventilation in the Summer – in fact on a hot Summer's day, with an Access Tomato House you can completely remove the roof for maximum ventilation, but leave the side panels in place for wind protection.
Fantastic Quality
The quality of a Access Tomato houses is far superior to cheap plastic tomato houses available in the DIY stores. The framework is made of architectural aluminium and has a 25 year warranty. Instead of cheap plastic, proper toughened safety glass is used, which makes the inside much warmer on early Spring days. The glass also withstands snow and wind; unlike cheap competitors, the Access Tomato House won't blow away in a puff of wind – in fact we supply an optional anchorage kit to allow it to be firmly bolted down to the ground. For really windy spots, there is also a bracing kit available on the Double Tomato House – and by windy we mean up on the moors or by the sea!
Tomato Houses with Plenty of Options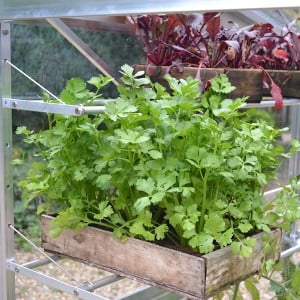 There are two models in the Tomato House range, a 4′ x 2′ Tomato House and also a Double Tomato House which measures a generous 4′ x 4′ and will hold between 9 and 12 tomato plants. It's not just tomatoes that can be grown either – Chilies and Peppers can also be grown, and by adding some optional seed tray shelves, the Tomato Houses can also be used in the early Spring to bring on young seedlings and plug plants.
Seed tray shelves come in two depths; narrow seed tray shelves allow 3 seed trays to be placed on them and the trays are orientated width ways; the deep seed tray shelves take the seed trays depth ways, and can hold up to 5 seed trays. Each shelf is manufactured from slim aluminium tubes, which cast very little shadow when not in use. In addition the height of the shelves can be adjusted and the shelves can be removed in Summer.
For pot plants, optional shelf covers drop over the shelves and provide a stable platform for the pots.
In addition a mist watering system can be added into either of the Tomato Houses, providing a gentle mist for raising the humidity – just put the mist on for 30 seconds in the early morning before the sun gets too strong.