What to grow in a greenhouse in winter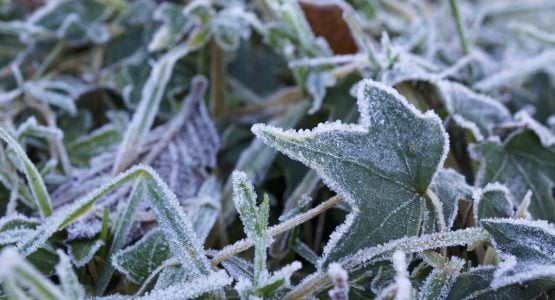 As the nights draw in and the days get colder, you might wonder whether you can still get use out of your greenhouse. The answer is yes! There are plenty of plants you can grow in a greenhouse in winter, and while they won't grow as fast as they would in the warmer months, they'll still flourish with a little protection from the elements. 
The specifics of what you should grow will depend on the type of greenhouse you have and where you live, but there are a number of crops that tend to work well for everyone, as long as you've planned accordingly!  
We'll take a look at which herbs and vegetables to grow in a greenhouse in winter, as well as tips for insulating and ventilating your greenhouse in the colder months. 
Vegetables to grow in a greenhouse in winter 
There are plenty of hardy vegetables that will grow well indoors throughout winter – here are our recommendations of the best ones:
Potatoes 
The perfect winter ingredient, you can grow potatoes in either grow sacks or a large bucket/flower pot. We recommend filling your container with two parts garden soil to one part compost for best results. Potatoes started early in the winter season will be ready to enjoy by March, or you can start them later and then move them outside when the weather warms up. Potatoes can be susceptible to frost, so be sure to keep your greenhouse warm  if the temperature drops significantly. 
Winter lettuce 
For the salad lovers, there are a few different types of lettuce that prefer the cooler environment. Little gem, rocket and lamb's lettuce are all good – they tend to grow fairly quickly, so just harvest when you've got some big leaves you can use. 
Pak choi 
This oriental vegetable is a great addition to a stir-fry or noodle dish. Packed full of healthy vitamins and fast to grow, it can be sown as late as October ready for winter harvesting. Leaves take roughly 30 days, whereas the full plant will take closer to 70 days. 
Spinach and kale
These leafy greens can readily brave the cold, which makes them perfect for growing during the winter. Growth times can vary, but you're sure to have crops in abundance. Merlo Nero and Riccio d'Asti are good varieties of spinach to sow in an unheated greenhouse, and kale can survive in temperatures as low as -6C. 
Cabbage and broccoli 
If you manage to keep your greenhouse at the optimum temperature, both cabbage and broccoli can grow throughout the whole of winter. Start them early (mid-winter time) ready for planting outdoors in spring.  
Brussel sprouts 
Love or hate them, brussels are perfect for winter greenhouses. They take around three months to grow, so harvest them in March when they're roughly 1-2 inches in diameter. If you're going to be using them for cooking, be sure to harvest sprouts that are of a similar size – this will give them a more uniform cooking time.
Growing herbs in a greenhouse in winter 
The freshness of homegrown herbs makes all the difference to your cooked meals, and there's no reason to miss out just because the seasons change. While some herbs won't survive the UK's harsh winter weather conditions, there are still plenty that can thrive when grown under glass. 
Coriander, dill and mint are all good choices, best planted in late Autumn. Parsley in particular is an excellent herb for withstanding the cold – it will form a decent sized plant and can even grow through a small amount of snow! Mediterranean herbs like thyme and sage hate winter and wetness, but they can still thrive in a greenhouse environment. Take cuttings in the summer and plant them closely together in some dry soil. You can then move them outside into a herb garden when May comes around. 
How to clean a greenhouse for winter
Before you start planting for the winter period, your greenhouse will need a good clean. It's not the most glamorous of jobs, but it's important. Removing any stubborn dirt, algae and mould allows for more light to come in, and your winter plants will be happier for it – after all, they need all the light they can get! It's also a great time to get it done as you'll have fewer jobs to tend to in the rest of the garden. 
Try to pick a dry, mild day for the task if you can (it'll make things easier!) Then go about the following actions:
Start by removing all plants from the greenhouse, keeping them in a sheltered area while you work your magic. 

Sweep or vacuum away any debris from the inside. 

Clean all the structural parts of the greenhouse using a disinfectant. This could be a garden-specific solution, or simply a domestic cleaner. Hot solutions work best!

Use a glass cleaner on each panel of glass in order to scrub and soak off dirt.
Insulating a greenhouse for winter 
Greenhouses are a great way to keep your passion for growing alight during the winter months, but in order for a greenhouse to do its job effectively it needs to retain its heat, especially when it starts to get really chilly. Good insulation is a must; we recommend using horticultural bubble wrap to protect your plants from UV rays and keep costs down. To avoid any problems with damp, we suggest only insulating the roof and end glass. This way you'll still have easy access to your plants with optimal daylight levels. 
To keep your greenhouse above freezing, you'll likely need to provide some supplementary heat as well. An electric heating system is best, and when controlled with a thermostat, it doesn't have to get too pricey. If your greenhouse doesn't have electricity, a paraffin heater is a good alternative. 
Learn more about how to insulate your greenhouse in winter.
Winter greenhouse ventilation 
While insulation is important, so is ventilation – and it's essential that you strike a good balance. In addition to heat, your plants need a healthy supply of carbon dioxide to avoid becoming leggy, as well as plenty of oxygen for night-time transpiration. Humidity is also detrimental to plant growth, so good winter greenhouse ventilation is essential to avoid disease or mildew build-up.  
Simply open your greenhouse doors at the start of a bright morning and close them before the sun goes down. 
When it comes to what to grow in a greenhouse in winter, the options may be wider than you think! The best thing to do is just give it a go; try out different kinds of plants in different containers and reap the tasty rewards! For more tips on successful greenhouse growing, whatever the weather, head on over to our blog!