Access 4ft Growhouse – ideal for tender plants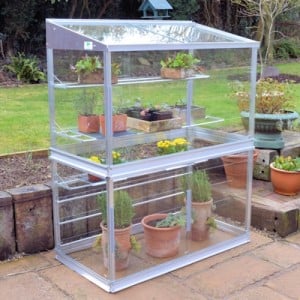 The most popular model in the Access range is the Value 4ft Growhouse. Just 1.2m / 4′ long and just under 5′ high, the Growhouse provides plenty of growing space in a versatile design. In the early springtime the seed tray shelves can be used to hold up to 24 full sized seed trays; in the Summer the shelves can be removed and crops such as Tomatoes, Chillies and Peppers can be grown. When the chill winds of Autumn blow the shelves can be re-fitted and more delicate plants can be protected from the worst of the Winter weather.
The 4ft Growhouse is made in Britain from architectural aluminium and is glazed in toughened safety glass. The framework comes with a 25 year guarantee and is designed to withstand strong winds in exposed locations. Fixings are included to allow the Growhouse to be bolted securely to the ground.
Using real glass (toughened for safety) rather than plastic glazing has a number of advantages. Unlike plastic, glass traps the heat of the sun's rays, warming the Growhouse and resulting in earlier crops. The glass is also very rigid, so it will not flex and blow out of the Growhouse in windy weather and the roof panels will cope with 2 or 3 feet of snow.
The unique 'sliding door' design provides easy access into the 4ft Growhouse, with no hinged doors to flap and bang in the wind; the design also allows infinitely variable ventilation, just open an inch on a bright early Spring day and wide open in the height of Summer. In fact, if the weather is really warm, the glass can be removed.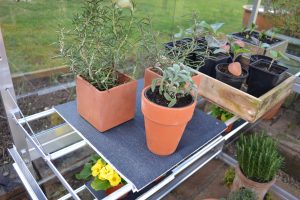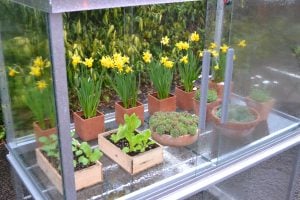 To make the Growhouse even more versatile, there are a number of accessories available. Seed tray shelf covers allow the Growhouse shelves to be used with smaller pots. These have a capillary matting on the top to catch drips from watering. Another really useful accessory for the Growhouse is centre staging. These are made of 4mm toughened glass, so they let the light down to the lower levels, but provide capacity for another 8 seed trays. In the Summer the middle staging can be lifted out, allowing taller plants to be grown.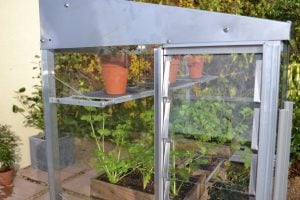 If you are away, another useful accessory is the automatic louvre vent. Ingeniously the vent will open and close on it's own as the temperature inside the Growhouse rises and falls. In the late Spring the sun will be up at 6am, warming the Growhouse, but with an automatic vent installed the Growhouse will be ventilated while you are in bed!
The vent uses the expansion and contraction of a plant based oil to drive the piston on the vent, so there is no need to bring power to the greenhouse.