What are the differences between cold frames and greenhouses?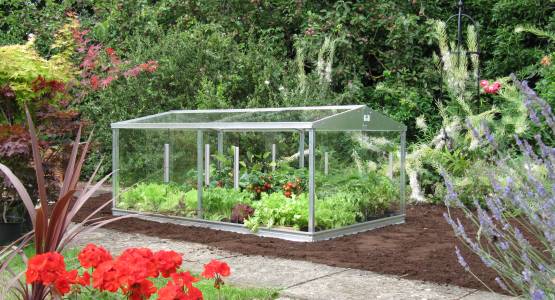 When it comes to extending your gardening season and protecting your plants, both cold frames and miniature greenhouses offer valuable solutions. In this comprehensive guide, we will explore the differences between these structures and help you determine which option best suits your gardening needs. Whether you're a beginner or an experienced gardener, understanding the unique advantages of cold frames and greenhouses will empower you to make an informed decision for your garden.
Although there are many differences separating a cold frames and greenhouses, the main purpose is still the same. They are both used to prolong the growing season as it will allow you to plant much earlier than the growing season to get ahead. This is because it will protect the seedlings or plants that you are growing from the persistent rain, wind, or frost. The glass will also trap the heat of the sun, creating a warmer environment for plants to grow in.
A cold frame would traditionally be used for soil grown crops or for hardening off plants that come out of a heated greenhouse, unlike a greenhouse, traditionally cold frames would not be heated.
Cold frames
A traditional cold frame would usually be a box structure which is usually quite low down to the ground with a transparent lid that you are able to lift up and down. Although it is still useful in the way that it will protect your seedlings, the problem with it being is that you are unable to control the temperature. This is because the only way to allow air to circulate is to lift the lid up and leave it open.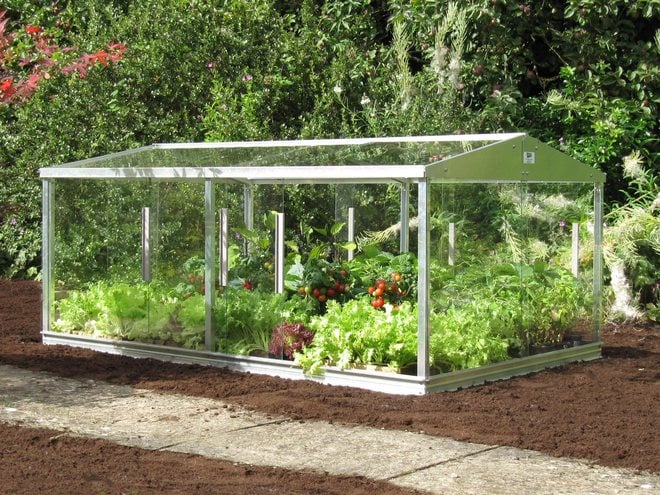 With one of our cold frames, all sides are glass, allowing you to have access through the roof and sides as the glass can slide and be able to see inside the cold frame at all angles. Also, you can control the temperature, whether that be by using one of our louvre vents or leaving the panes of glass slightly ajar to allow enough air to circulate. In the winter, if you only have a cold frame and no greenhouse, using one of our paraffin heaters or alternatively the tea light method. Our cold frame shelves can be bought has an additional extra which will create more space to put more seedlings or plants in.
Another disadvantage of the wooden sides of a traditional cold frame is that the plants can become drawn to grow towards the light. An Access cold frame has all glass sides so this isn't a problem. Cold frames are an excellent way of warming the soil early in the year to get soil crops such as potatoes and vegetables to grow earlier. Cold frames are also moveable allowing new soil areas to be cropped each year, reducing disease problems.
Greenhouses
Typically, no matter what type of greenhouse it is that you have, you can control the environment within the greenhouse. This is because you can control the temperature, lightening and humidity- this allows you to grow all year round.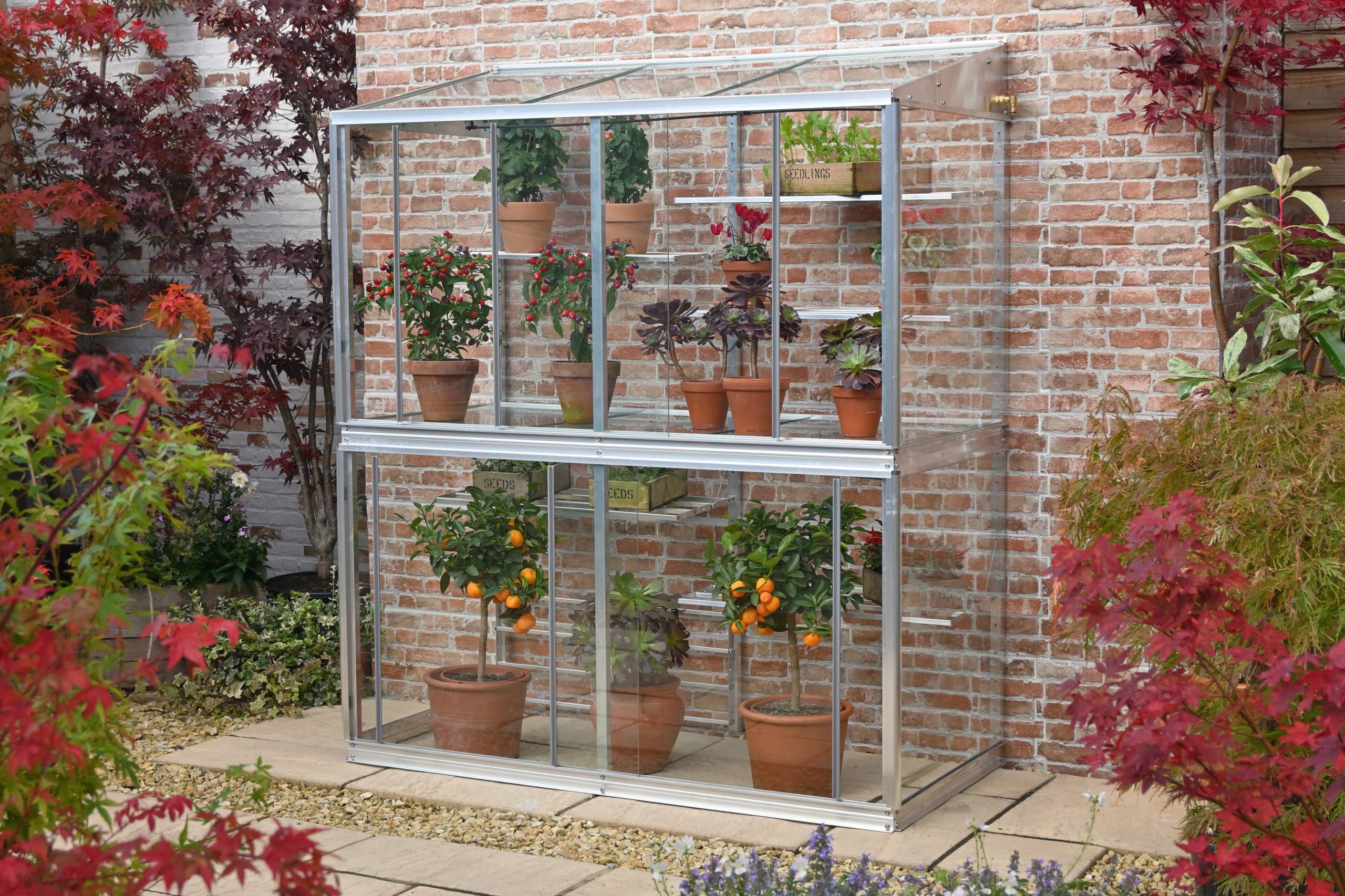 A traditional greenhouse is usually a structure that you can walk in and access your plants that way. There are many options when it comes to a greenhouse, as there are many different shapes and sizes.
Along with the option of it being either a freestanding or lean-to model. A lean-to model is a type of greenhouse that needs to have a wall to be attached to, whereas a freestanding model can be placed anywhere. However, they tend to be rather large structures, so the benefit of having an Access mini greenhouse is that if you have limited space, there is more than likely a model that can help you solve your problem.
Larger greenhouses will hold the heat more than a smaller one however ventilation is typically not so good, so depending on what you are growing this may be a problem.
With an Access greenhouse, the glass slides and this is how you access any plants that you are growing, depending on the model you chose you may also be able to access via the roof panes. As majority of the panes of glass can slide it can create good air circulation, but an automatic louvre vent can be purchased.
A benefit of having an Access mini greenhouse is that because of the size of the models they won't dominate your garden allowing you to still enjoy your garden. Due to the size of the greenhouses, you can add additional extras that will allow you to personalise it to your needs, for example a raised based can be purchased to increase the height of the greenhouse if you struggle with mobility, the raised base can also be used to put soil in and grow from soil in your greenhouse.
Plant selection and growing capabilities
When it comes to plant selection and growing capabilities, there are distinct differences between cold frames and greenhouses. Here are the key variations:
Cold frames:
Suitable for cool-season crops – cold frames are ideal for growing cool-season crops that can tolerate lower temperatures and frost. This includes vegetables like lettuce, spinach, kale, radishes, and other hardy plants.
Hardening off seedlings – cold frames are commonly used for hardening off seedlings, preparing them for transplanting outdoors by gradually exposing them to outdoor conditions.
Extending the growing season – with the added protection from cold weather, cold frames allow gardeners to extend the growing season for frost-tolerant plants. This means you can start planting earlier in the spring and continue harvesting into the fall.
Limited space and height – cold frames typically have a smaller growing area and lower height, which can limit the types of plants that can be accommodated. Taller or vining plants may outgrow the available space.
Greenhouses:
Wide range of plant options – greenhouses offer a broader range of plant selection and growing capabilities. You can cultivate various plant types, including cool-season crops, warm-season crops, tropical plants, orchids, exotic flowers, and even delicate perennials that require specific temperature and humidity conditions.
Extended growing season for tender plants – greenhouses allow you to grow tender plants and heat-loving crops throughout the year, regardless of the outside climate. This enables you to create a controlled environment with optimal temperature, humidity, and light conditions for specific plants.
More space and height – greenhouses typically provide more space and height compared to cold frames. This allows for the cultivation of larger plants, vertical gardening, and more flexibility in arranging and growing a diverse range of species.
Enhanced temperature control – greenhouses offer advanced temperature control options, such as heating systems, cooling systems, and ventilation. This enables precise regulation of temperature, ensuring optimal growing conditions for different plant types.
Specialised growing techniques – with a greenhouse, you have the opportunity to employ specialised growing techniques like hydroponics, aquaponics, and vertical farming. These techniques can maximise space utilisation and yield, making it possible to grow a wider variety of plants in innovative ways.
In summary, cold frames are well-suited for cool-season crops, hardening off seedlings, and extending the growing season for frost-tolerant plants. Greenhouses, on the other hand, provide a more extensive range of plant selection and growing capabilities. They offer the flexibility to grow cool-season and warm-season crops, tropical plants, delicate perennials, and the ability to create customised growing conditions. The larger space, greater height, and advanced temperature control options in greenhouses allow for more diverse and specialised growing techniques.
Final thoughts
Both cold frames and greenhouses offer unique advantages for gardeners. Cold frames are versatile, affordable options that extend the growing season and protect plants in a compact space. Greenhouses, on the other hand, provide a controlled environment for year-round gardening, enabling a wider range of plants to thrive. Assess your garden's needs, available space, and budget to determine which structure suits you best. Find the perfect solution for your gardening journey at Access Garden Products UK, where we offer a wide range of grow houses and mini greenhouses to cater to your specific requirements.