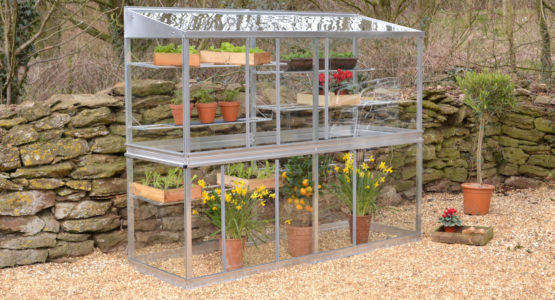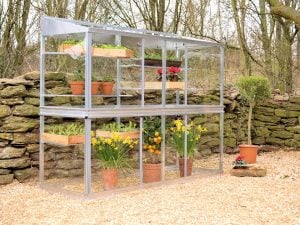 We have now added a 6′ long Growhouse, adding to the success of the 4′ long Access Growhouse and providing even more growing space in a compact area. The Growhouse is 6′ 0″ (1.83m) long; 2′ 2″ (0.65m) deep and 4′ 11″ (1.49m) high and is designed to be completely free-standing.
The 6′ long Growhouse is constructed from glazed in 3mm toughened safety glass and includes 6 adjustable seed tray shelves. To access the Growhouse, the 3 panels at each level at the front, slide open; they can also be used to ventilate the Growhouse in warmer weather. During hot spells, the roof glass can also be opened, keeping temperatures inside manageable.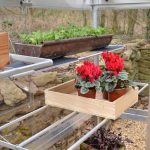 Inside, the split level shelving allows maximum flexibility. For taller crops, shelves can be removed on one side and left up on the other side. The height of the shelves can also be easily be adjusted.
The framework carries a 25 year guarantee and the Growhouse is glazed in toughened safety glass, designed to withstand strong winds and snow. Unlike plastic sheets, the panels will not bend and blow out in windy conditions. Glass also traps the warmth of the sun, maximising plant growth in the early Spring.