Your guide to growing cucumbers in a greenhouse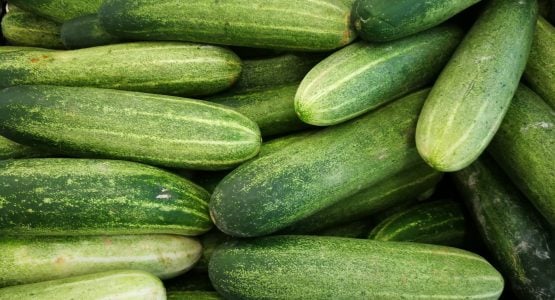 Fruit, vegetable or something in between? Whatever your opinion, there's no denying that cucumbers are brilliant for growing indoors, and if you plant them in the spring you'll have fresh ones to eat throughout the summer. 
In this helpful guide we'll cover all the things you'll need to know about how to grow cucumbers in a greenhouse, include the best types of cucumber to grow and top tips for a successful harvest. 
Benefits of growing cucumbers in a greenhouse
Although they do grow well outdoors, there are a number of benefits of growing cucumbers inside a greenhouse. For one, cucumbers hate the cold and frost, so they really thrive in a greenhouse environment. Another advantage is that you don't need much room at all, and you can really take advantage of vertical space by using a trellis. Lastly, they simply grow quickly – so you don't have to wait long until you can enjoy them!
Varieties suitable for growing cucumbers in a greenhouse
Here are some cucumber varieties ideally suited for greenhouse growing:
Miniature Cucumbers: Varieties like 'Mini Munch' or 'Picklebush' are perfect for greenhouses due to their compact growth habits. They produce small, crisp cucumbers that are ideal for pickling or snacking.
European or English Cucumbers: 'European' or 'English' cucumber varieties, such as 'Diva' or 'Passandra,' are known for their long, slender, and seedless fruits. They perform exceptionally well in greenhouses, producing high yields of delicious, mild-flavoured cucumbers.
Dwarf Bush Cucumbers: Varieties like 'Bush Champion' or 'Fanfare' are bred specifically for smaller spaces like greenhouses. They have a bushy growth habit, making them ideal for containers or limited garden space within the greenhouse.
Slicing Cucumbers: For those who prefer traditional slicing cucumbers, consider 'Sweet Success' or 'Tasty Green.' These varieties offer excellent flavour and are well-suited for greenhouse cultivation, providing a steady supply of crisp, juicy cucumbers.
Hybrid Varieties: Many hybrid cucumber varieties are designed to excel in controlled environments. They often exhibit disease resistance, high productivity, and exceptional flavour, making them great choices for greenhouse gardens.
Top tips for successful cucumber growing
Greenhouse cucumbers will need to be raised in grow bags (two per bag), beneath the protection of glass. In order to get the best results from growing them in this environment, we recommend you follow these top tips: 
Set up for sunlight.

Cucumbers need plenty of it, so be sure to set up your greenhouse in a way that will allow for around six hours of sunlight a day. 

Remove male flowers.

Some types of cucumbers are monoecious, meaning that they produce both male and female flowers on the same plant. You'll need to remove the male flowers in order to prevent the fruit from becoming bitter. It's easy to tell them apart, as female flowers have a swelling underneath them.

Choose an effective training method.

Cucumbers grown in a greenhouse will require training. We recommend securing stems to the cane and pinching out the tip once it reaches the roof. Be sure to also pinch out the shoots from side branches.

Water moderately.

Once your plants emerge, you'll want to give each one roughly a gallon a week. Little and often is always a good rule of thumb!

Keep pests at bay.

Lots of critters are attracted to cucumbers, such as whiteflies and beetles. Try using sticky pest boards to trap them teamed with an insecticidal control agent.

Ensure you have good soil conditions. Neutral to slightly alkaline soils are best for cucumbers, moist but never soggy. Use a light liquid fertiliser around twice a month to keep it in the optimal condition.
Your plants should be ready after around 12 weeks. They tend to reach between six and eight inches in height, and you can harvest as many as 50 cucumbers per plant. We recommend picking them before they show signs of bearing seeds, as the older a plant is the more bitter it can taste. Simply cut your cucumbers off using a pair of secateurs or a sharp knife. 
Once you've harvested your crop, your cucumbers are ready to make a tasty addition to all kinds of dishes. They're suitable in everything from salads to sushi rolls – and if you don't fancy eating them, you could always use them as part of a homemade face mask! 
We've got plenty more advice on growing fruit and vegetables inside a greenhouse, including how to grow samphire and how to grow sweetcorn in a greenhouse. Head over to our blog to find out more.