Your guide to growing samphire in a greenhouse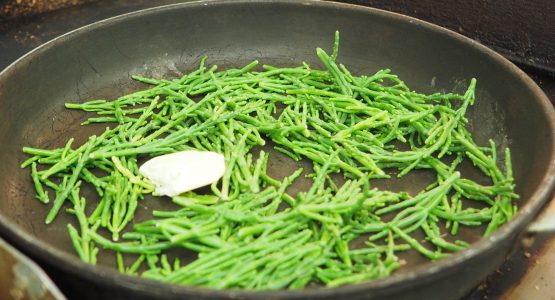 Samphire has had something of a popularity boost in the last few years, popping up on restaurant menus and dinner tables across the country. Growing naturally along the coast right here in the UK, it's also easy to grow it for yourself at home. This vegetable comes in two different types: marsh samphire and rock samphire. Here, we're going to talk about growing the marsh variety.
Bright green in colour with a salty taste, samphire is also known as glasswort, or the 'sea asparagus'. High in vitamin C, it's said to be great for digestion and can even help relieve flatulence – good news for everyone!
Benefits of growing samphire in a greenhouse
While it does grow well outdoors, there are a number of benefits to growing samphire in a greenhouse. For starters, it's an ideal size, reaching 6-8cm tall. Samphire prefers the warmth, with a sunny position if it can find it – which makes a greenhouse the perfect environment for it to thrive. A greenhouse also provides ample protection from cold, harsh weather conditions including frost. This protection makes it much more likely for plants to grow year after year, especially as samphire reseeds itself.
Samphire varieties
Samphire, a succulent coastal plant, offers two main varieties: marsh samphire (Salicornia europaea) and rock samphire (Crithmum maritimum).
Marsh Samphire: Also known as glasswort, marsh samphire grows in muddy or sandy marshes along coastlines. It features vibrant green, jointed stems with small, fleshy leaves. Its taste is salty and crisp, often used in salads, pickles, and as a side dish for seafood.
Rock Samphire: Rock samphire, also called sea fennel, thrives on rocky cliffs near the sea. It has distinct, fern-like leaves and a more pungent, aromatic flavor compared to marsh samphire. Historically used as a seasoning, rock samphire is a prized ingredient in Mediterranean cuisine, lending its unique flavor to various dishes.
Both samphire varieties offer a delightful taste of the seaside and are prized for their distinctive flavours and culinary versatility.
Top tips for successful samphire growing
In order to get the most from your samphire crop, we recommend following these tips:
Samphire is best started in spring, so opt to plant it in trays between March and May.

As samphire is a seawater plant, it thrives when watered with a saline solution. It's recommended that for every pint of water you use, you should add one teaspoon of sea salt. Be sure to use proper sea salt rather than table salt, as any anti-caking agents will kill your plant.

Water regularly to keep the compost moist and ensure it doesn't dry out.

Harvest your crop between June and August for the best results. 
By following these simple steps, you'll find that growing samphire in a greenhouse has never been easier!
Need some ideas for how to use it once it's been harvested? It makes a great accompaniment to fish dishes – just cook it the same way you would asparagus, boiled and with a bit of butter! If you don't fancy cooking it, it makes a lovely salty addition to any salad. Give it a go!
For more helpful info on how to grow a wide variety of plants in your greenhouse – from sweetcorn to tomatoes plus a range of tips and tricks, check out the rest of our blog.