Accessories for the Greenhouse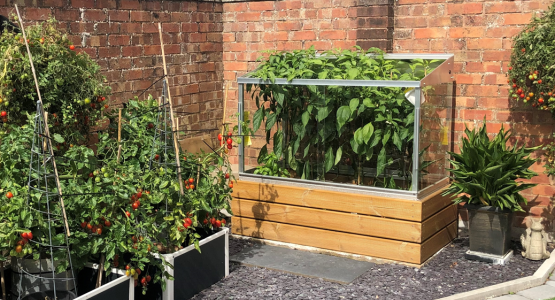 We sell a variety of different accessories that allow you to adapt your mini greenhouse, growhouse or cold frame  to your specific needs. These accessories include, shade covers, middle staging, louvre vents, shelf covers, raised bases, mist watering and paraffin heaters. So, there is something that will help aid your growing requirements.
The benefits of greenhouse accessories
Every garden is different and every gardeners wants different things from their greenhouse or cold frame. Some gardeners have a full size walk-in greenhouse in addition to their Growhouse or Cold Frame, for others these are their sole area for growing under glass. The wide range of accessories that are available with Access Mini greenhouses and Access Cold Frames allow you to personalise the unit to your specific needs.
Here is our guide to the accessories available.
Greenhouse accessories available
Greenhouse shade covers
Shade covers can be very beneficial for your greenhouse especially if your greenhouse is situated in a place where it gets a lot of direct sun light. This is because it reduces the amount of light entering the greenhouse by 70%, therefore reducing the interior temperature. This is useful if you are growing more delicate plants within your greenhouse. However, throughout the winter the shade cover will also act as a layer of insulation. But can also be rolled all the way back up or only part way down so can become very useful.
Middle staging for the greenhouse
Middle staging acts as an additional shelf made from toughened safety glass, this is beneficial as it will allow for extra room for pots and seeds tray and can hold up to 50kg weight. However, this accessory is only available for full height frames such as the 4ft growhouse. The middle staging can be easily removed, this is beneficial if you are growing plants such as tomatoes you can remove a pane of glass out which wouldn't restrict your taller plants.
Automatic Louvre vent
With our automatic louvre vent there is no electricity needed as it uses a grease filled opener which allows it to open, this will automatically happen once it reaches above 18 degrees and closes once the temperature has cooled. It is a great benefit for the frames that are in direct sunlight, no need to remember to go out and leave the doors slightly ajar in the summer mornings. They are designed to go on the left-hand side of the frame, but a conversion kit can be purchased for it to go on the right-hand side- this is only the case with classic frames. However, a louvre vent can't be fitted to our 4ft midi growhouse.
Greenhouse shelf covers
Our shelf covers are simply an aluminium cover with "wings" that goes over the top of the shelves, the wings stop the cover from sliding off. They are useful because Access shelves are made up of rods so if you are wanting to put smaller pots on the shelves the cover acts as a flat surface. They also have a water absorbent mat to provide a supply of water to any smaller pots as they tend to dry out quickly. (Wide and narrow sizes are available so can be used on both sized shelves.)
Wooden Raised beds
Raised beds are a great addition to anyone who wants to grow soil grown crops, with a greenhouse on top of the raised bed it allows for earlier cropping. We sell them in many different sizes that will fit our growhouses as well as lean-to versions for our wall frames. There are many other advantages adding a raised base to your greenhouse including accessibility as it will be elevated from the ground, and they provide better drainage than growbags or pots. You can read our blog about our raised beds in more detail here.
Mist watering for Greenhouses and Cold Frames
The mist watering system comes as standard with all classic greenhouses, apart from the Westminster as it is too narrow for the mist watering to work effectively. But it can be bought as an accessory for any value frame, if your frame has two tiers such as the 6ft growhouse, you will receive enough to have the system on both tiers of your greenhouse. The misting nozzles you receive within your kit are commercial quality and are gentle so no plants will get damaged.
Greenhouse Paraffin heater
Paraffin heaters are suitable for majority of our smaller growhouses, or a specific area of one of our larger models. They are a good option to provide a stable heat source to keep your greenhouse or cold frame frost free during the colder months if the temperature doesn't drop below -6.  The heater holds a 1.7 litre tank so will provide you with 10 days of burning with just one fill.
The RHS have an information page on the pros and cons of different heating methods.
Greenhouse accessories – conclusions
In conclusion there are a wide range of accessories which can personalise your mini greenhouse, Growhouse or cold frame to you own personal needs. These are available online from our website.