Greenhouse Growing Tips: April Edition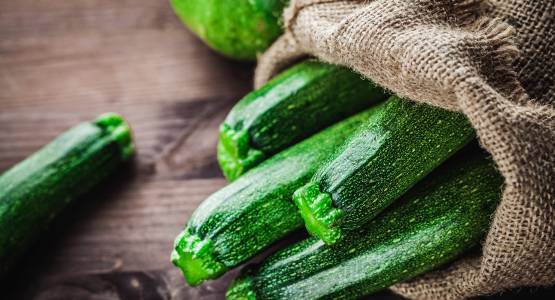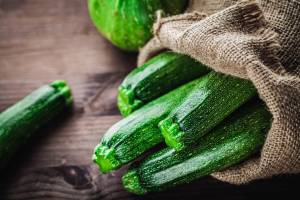 April is the perfect time to start sowing in the greenhouse. The soil outside is still cold so seeds can be started off under glass to be planted out after all risk of frost has passed.  Tender crops like sweetcorn, courgettes, pepper, squashes,  french beans  and runner beans should be sown under cover and kept in either a greenhouse or on a sunny windowsill before planting out in 4 to 6 weeks into raised beds or the vegetable patch.
April is your last chance to sow aubergines, chillies, and tomatoes from seed as they  need a long growing season to do well. Propagators help to ensure success with seed sowing; a heated propagator or mat will speed up germination and rooting.
Tomatoes are heat-loving plants that cannot stand the freezing weather but with a greenhouse or cold frame they can be started from seed this month. There are lots of varieties to choose from, so choosing the best variety can be a tough task. Decide on the type of tomatoes you want, considering the space you have available in your garden.
Make sure to plant your seeds in a soil that has proper drainage. The soil should be moistened but not immersed in water. The best temperature is around 70°F to 75°F. Place one seedling per pot for a strong and healthy tomato plant.  Start fertilizing once you see the second set of true leaves and remember poor light can lead to pale and frail plants.
Organic tomatoes are healthier with greater levels of Lycopene. Lycopene helps to unclog obstructed arteries and is good for the heart. Another reward with growing your own tomatoes is the astounding diversity of size, shape, colour, and flavour.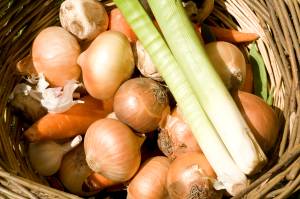 April is the month some seeds can be planted outside such as carrots and peas. Prepare a loose, sandy, tilled soil before sowing. April is also the month for planting potatoes, as well as onions sets, shallots and garlic, and Jerusalem artichokes.
For an autumn harvest, leaks can be sown in shallow drills direct in the ground from April, or in seed trays under cover to plant out later.
Lettuce is best sown under cover, in seed trays or modules, and planted out when large enough to handle. This can give them a head start on slugs and snails, which seem to find young lettuce growth irresistible. Alternatively, sow lettuces in pots, and protect the seedlings using copper tape or by hand-picking slugs and snails when you see them.
Strawberry runners can be planted in April and will fruit within a few weeks. Plant them in the ground in rows or strawberry pots or even hanging baskets. Protect developing fruit from slugs and snails using straw.
For those that followed our earlier blogs you can begin to harvest your first round of cold-tolerant crops planted November/December such as Winter Lettuce and continue planting cold-tolerant, quickly growing crops to replace them.
The garden really surges into growth during April, with an abundance of fresh foliage and spring flowers. If you want to brighten your beds and borders at this time of year there's no shortage of options to consider. Cosmos and field poppies can be sown to fill gaps in borders. Bedding plants can be prepared for their move outdoors.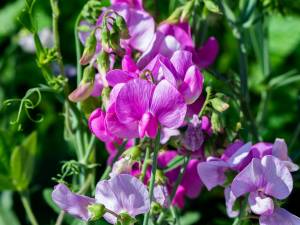 Continue to sow hardy annuals outdoors, as well as native wildflowers and sweet peas at the base of supports.  Spanish flag is a vigorous annual climber, sow it under cover from March to May, then plant out after the last frosts. This will produce cascades of fiery red and yellow flowers, which look fantastic in annual container displays.
If you can provide frost protection you can plant summer bulbs such as lilies, freesia, gladiolus, and crocosmias into tubs otherwise, wait until after your last frost date to plant outside. Start tuberous begonias and caladiums indoors for transplanting out to your garden later.
April is an ideal time to plant annuals that bloom in summer like sunflowers. These sturdy plants are easy to grow and require little care once planted. When the soil temperature reaches at least 60 degrees Fahrenheit, plant sunflower seeds no more than one inch deep and about six inches apart in a spot that receives a lot of sunlight.
Remember regular ventilation is essential, open the roof glass on warmer days, keep a watch out for pests and check plants regularly to see if they need watering. Remember to keep on top of weeding and divide perennials.