Our range of heated electric Propagators ensure faster germination and rooting with a much higher success rate. The electric propagator works by ensuring the root zone is kept warm, allowing the early propagation of plants.
Our range of Electric Propagators includes a triple top electric windowsill propagator and two-in-one Electric Propagator, see below to browse our product range.
Benefits of Electric Propagators
Even a small electric propagator will produce a large number of plants, so a number of the mini propagators have small seed trays to allow a wide range of plants to be propagated at the same time.
Our systems allow for the propagation of traditionally difficult plants.
Our windowsill products allow you to grow plants indoors.
Ventilated lids keep in moisture whilst allowing some air change to prevent disease problems.
For more information on any of our propagators, call us on 01788 822301 or email [email protected].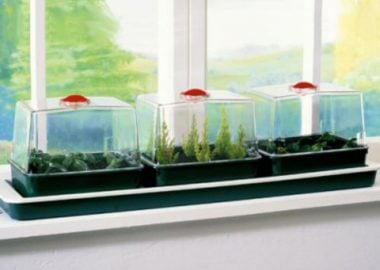 We also have a range of excellent products for the keen gardener – ranging from wooden raised beds to glass bell cloches and innovative garden gifts – the perfect additions to your garden.
BROWSE OUR FULL RANGE OF PRODUCTS