Herb House
PRODUCT DESCRIPTION
Herb House with aluminium frame and toughened glass. Adjustable seed tray shelf and optional mist watering.
2' 8" (0.8m) long Herb House
4mm toughened safety glass
25 year framework guarantee
Adjustable seed tray shelf
Optional mist watering
The Herb House is designed to stand on a small patio or even a balcony. At just 2' 8" (0.8m) long, it's compact design will allow it to fit in even the smallest urban or city garden. Designed for the keen cook, there is nothing better than being able to pop out an pick fresh herbs while cooking.
The Herb House uses convection ventilation to self ventilate with cooler air drawn through the slatted base and warm air venting through the louvres at the top. The convection ventilation system starts operating when the air inside is warmed by the sun, so on a cool day no ventilation will take place. In cold weather, an optional winter plate will cover the slats to prevent drafts coming into the Herb House.
The sliding doors provide easy access into the Herb House and allow additional ventilation – just an inch or so in the early spring to wide open in the summer. In addition, the roof panels slide open for superb summer ventilation.
Aluminium structure with 25 year framework guarantee and stainless steel fixings – designed to last a lifetime! Ground fixings included.
The 4mm toughened safety glass provides excellent light transmission and traps early spring heat much better than plastic sheets, and unlike plastic will not go milky with age. The glass will not flex in strong winds or under snow loads.
The Herb House includes wide seed tray shelf, which can be adjusted for height and can be removed or dropped flat when not required in summer. Strong but slim aluminium bars reduce shading of the plants below.
The optional mist watering system will water the herb house and has fine nozzles suitable for delicate seedlings. Connects to the hose with a standard hose fitting and a tap timer can be added to the watering for automated holiday watering.
As an option, the framework is available Colour Coated in either Anthracite or Cotswold Green.
Optional extras include shading for sunny locations and wide shelf covers for smaller pots.
Delivery to mainland England, Wales and southern Scotland included. Self-assembly with comprehensive instructions.
Length: 2′ 8″ (0.8m) Height: 3′ 1″ (0.93m) Depth: 1′ 10″ (0.55m)
PLEASE NOTE: There is a printing error on the price in our paper catalogue.
Main image: The Herb House is shown with optional Cotswold Green colour coating.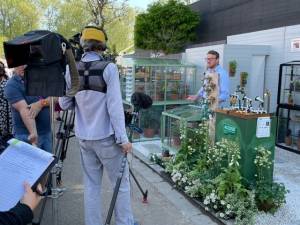 Our Herb House was featured on episode 6 of the BBC1 Chelsea Flower Show coverage on 24th May 2023. JJ Chalmers presented a segment on the benefits of growing under glass. 
Only logged in customers who have purchased this product may leave a review.